Why Megan Fox Ripped On Will Arnett On The Teenage Mutant Ninja Turtles Set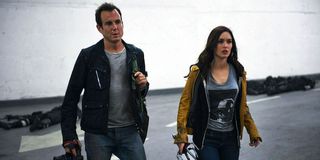 When two actors work together long enough, whether it's just over one movie or several, they typically develop a close rapport with one another, which can also lead to good-natured teasing every now and then. Such is the case with Megan Fox and Will Arnett, who co-starred in 2014's Teenage Mutant Ninja Turtles and recently reunited for its sequel, Out of the Shadows. However, there was one instance when Fox completely ripped into Arnett during the first Turtles movie by calling him out over his choice in women.
During her visit to Conan earlier this week, Fox told he story about how during Teenage Mutant Ninja Turtles' production, Arnett was dating a lot, which meant he brought new girlfriends to set "every other week." With each week, the women seemed to get younger and younger, and it eventually led to Fox dropping this comment on him:
Ouch! For those who don't know, Will Arnett separated from his previous wife, fellow comedian Amy Poehler, back in 2012, and by 2014, they were divorced. So when Teenage Mutant Ninja Turtles was shooting, that's at the time when he was was jumping back into the dating game, and clearly his tastes were skewing much younger. Whatever your feelings about Megan Fox as an actress may be, you have to admit, that was a good burn she laid on him. The only thing missing from there was a comment about his then-girlfriend needing a juice box. Still, Fox mentioned before telling the story to Conan O'Brien and his viewers that Arnett doesn't like it when she tells it, so he might be a tad pissed that she made it public to millions of viewers.
In the new Teenage Mutant Ninja Turtles movie universe, Megan Fox plays reporter April O'Neil, while Will Arnett plays April's bumbling camera man, Vern Fenwick. They were the first humans to meet the Turtles AND not try to kill them. After the events of the first movie, Vern has taken credit for the Turtles' heroism by Out of the Shadows, but when The Shredder returns with new villain allies his daughter Karai, Bebop, Rocksteady and Krang, obviously he's going to let the reptilian martial artists handle the situation, no matter what his public reputation may be. There's been no official word yet on whether a third movie (opens in new tab) is on the way, but if Paramount orders it, we can probably assume that Fox and Arnett will reprise their roles.
You can see Fox and Arnett together again in Teenage Mutant Ninja Turtles: Out of the Shadows, which is now playing in theaters.
Connoisseur of Marvel, DC, Star Wars, John Wick, MonsterVerse and Doctor Who lore. He's aware he looks like Harry Potter and Clark Kent.
Your Daily Blend of Entertainment News
Thank you for signing up to CinemaBlend. You will receive a verification email shortly.
There was a problem. Please refresh the page and try again.