The 2 Classic Action Comedies That Inspired Central Intelligence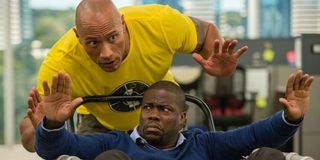 Over the course of the last few years, Dwayne Johnson and Kevin Hart have blossomed into two of the most popular actors working in Hollywood. So the fact that Central Intelligence brings the two of these actors together is one of the main reasons why it's seen as the most anticipated action buddy comedy of 2016. Screenwriter David Stassen has admitted that while writing Central Intelligence, he drew looked to some of the classics of the genre for inspiration.
David Stassen, who co-wrote Central Intelligence with Ike Barinholtz and its director Rawson Marshall Thurber, made this admission during a press conference that I attended for the film towards the end of last month. After being quizzed about trying to balance the message, plot, action, comedy and themes of the film, Stassen admitted that there were two specific entries to the action comedy genre that the trio often looked to for guidance:
For those of you that are unfortunate enough to have never seen either Beverly Hills Cop or 48 Hrs., they're about probably the pinnacle of the action comedy genre. One of the main reason for their success was the fact that they both starred the contagiously electric Eddie Murphy in the roles that turned him into Hollywood's biggest star.
Released in 1982, 48 Hrs. was the first of these to showcase Eddie Murphy's talents, pairing him against a wonderfully cast Nick Nolte and grossing $78.9 million from just a $12 million budget. It's also regarded as the first ever entry into the buddy cop genre, as it was followed by Lethal Weapon, Rush Hour and a certain Beverly Hills Cop.
While 48 Hrs.' success was rightfully celebrated, it was nothing compared to the humungous triumph of Beverly Hills Cop. Made for $15 million, the 1984 action comedy took in $316.4 million, making it the most successful film domestically of 1984. It's also the quintessential and critically laudedEddie Murphy comedy, allowing the character's irascible charm to come to the fore, and providing him with ample room for his wit and comedy to flourish.
The big question now though is, does Central Intelligence match up to either of these efforts with its action or its comedy? Well, you don't have long to find out because Central Intelligence will finally hit cinemas this coming Friday.