Jena Malone's Batman V Superman Role Has Leaked, Find Out Who She Played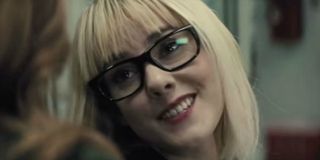 Warning: The following article makes references to the upcoming R-rated Ultimate Edition of Batman V Superman: Dawn Of Justice. So if you want to avoid SPOILERS ahead of its release, then you probably shouldn't read on. Instead, you should click over to one of our other fine articles on Zack Snyder's blockbuster to pass the time.
Jena Malone's participation in Batman V Superman: Dawn Of Justice has been teased and speculated over ever since she was seen wandering onto the set of Zack Snyder's blockbuster back in 2014. However, we finally have the definitive proof of who she is playing in the superhero hybrid, courtesy of Batman V Superman: Dawn Of Justice - The Ultimate Edition's credits being leaked, and it's quite a surprise.
The credits for the Ultimate Edition cut of Batman V Superman: Dawn Of Justice reveal that Jena Malone plays Jenet Klyburn in the extend version of the film. The proof is always in the pudding though, which you can now gobble up all for yourself by viewing the credits, below. Jena Malone's name emerges around the 1 minute and 10 second mark.
UPDATE: The video showing the credits has been pulled, but it showed part of the Ultimate Edition's scrolling credits, and Jena Malone was listed next to her character's name. The rest of the original article follows below.
The big question now is whether or not Jena Malone's brief appearance in Batman v Superman: Dawn Of Justice is a tease to her popping up in further films in the DC Extended Universe, or whether that's all we're going to get from her?
The answer is probably yes. Jenet Klyburn is indeed a DC character, but she is only a minor one, as she featured as the lead scientist at Metropolis' S.T.A.R. Labs. However, she is an ally to Superman, and the glimpse of her that we got in the Batman V Superman: Dawn Of Justice - Ultimate Cut trailer showed her chatting away to Amy Adams' Lois Lane, which suggests that she should come into cahoots with the trio. There is a deviation in Dawn Of Justice's version from the Jenet Klyburn in the comics, though, as Jena Malone's incarnation in Batman v Superman not only sports blonde hair, but wears glasses, too. Is that enough to cause mayhem across the interwebs? They've gone crazier over smaller alterations.
This news confirms once and for all that Jena Malone isn't in line to portray Batgirl/Barbara Gordon, which have been speculated since July 2015. In fact, there have been reports that Jena Malone would actually star in Batman V Superman from as far back as October 2014, but they originally suggested that she'd be portraying Carrie Kelley. That's not to say either of those characters won't eventually appear in the DCEU, but with this new information, we know it won't be Malone playing them.
We'll finally get to see Jena Malone in Batman v Superman: Dawn Of Justice -- Ultimate Edition when it arrives on Digital HD on June 28, while it will be followed on Blu-Ray on July 19.
Your Daily Blend of Entertainment News