The Rock Shows Off His Fast 8 Look, And It's More Badass Than You Would Imagine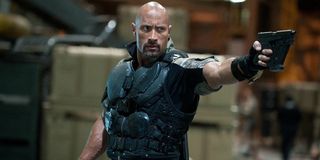 In the modern movie climate, if you want something done in the action genre then you turn to Dwayne Johnson. Which is understandable, because the man is a colossus. The former WWE star now has a plethora of projects on the go, including his return to the Fast & Furious franchise as Luke Hobbs in Fast 8. The Rock is currently hard at work on the production, and he's now shown us a tantalizing image of the special agent from the impending blockbuster, which he's accompanied with a ferocious, but hilarious, caption.
Just look at that glare. Sure The Rock's humungous muscles, as well as the enormous rifle in his hands, do a scintillating job of making him imposing, but the stern stare of The Rock straight down the lens of the camera proves that he'll be taking no prisoners in Fast 8. Not even his aviators can hold it back.
The Rock has promised that Luke Hobbs will have a much more substantial role in Fast 8 than he did in Furious 7. Those of you who saw the blockbuster when it smashed its ways into cinemas last April will know that after The Rock's tussle with Jason Statham's Deckard Shaw resulted in him tumbling at least a dozen stories out of a window on to a parked car, he then spent most of the film in a hospital bed. Which was lucky, because he really should have died from his injuries.
Not to be outdone by Vin Diesel, Tyrese Gibson, Michelle Rodriguez, Chris Bridges, and Paul Walker, Luke Hobbs did return for Furious 7's final showdown. But it's now expected that The Rock's Hobbs will be in the thick of the action throughout this time, rather than just sporadically present.
As per usual, The Rock has been doing a sensational job of amping up anticipation for Fast 8 while director F Gary Gray inspires and cajoles his cast and crew during production. In fact, around a month ago, The Rock shared an image of himself as Luke Hobbs that suggested the character has either gone or will go through some dark times in Fast 8. Something that the caption all but confirmed:
We'll get to see Dwayne Johnson in action as Luke Hobbs when Fast 8 finally hits cinemas on April 14, 2017, where it will be hard tasked to eclipse the enjoyably raucous and hugely profitable Furious 7. Something tells me they'll give it a good run for its money, though.
Your Daily Blend of Entertainment News