Fans Are Asking For A Stan Lee Biopic, And They've Found The Perfect Star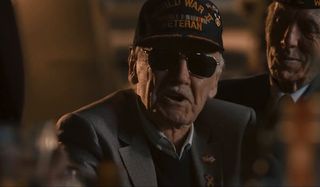 For over seven decades, Stan Lee has cemented himself as a comic book legend. He helped co-create many of Marvel's most famous heroes and villains, and his cameos in the Marvel movies are so prominent that even non-comic book readers recognize him when he pops up. Of all the comic book creators out there, Lee arguably stands the strongest chance of getting a movie about him, and if/when that day happens, fans have already found the perfect actor to play the writer: Bryan Cranston. Just looks at the faux movie poster to see the uncanny resemblance.
Posted on the EntertainMe Weakly Tumblr page, this fan-created poster shows how Bryan Cranston as Robert Mazur in his upcoming movie The Infiltrator looks just like Stan Lee, from the facial structure to the distinctive sunglasses. With a little photoshop work showing Iron Man and Captain America's shield reflecting in his sunglasses and a catchy poster tagline, we can look forward to the Bryan Cranston-led Stan Lee movie being ready for release in April 2017. Well, not really, but the poster makes us want a Stan Lee biopic badly now. Just imagine Cranston proclaiming "Excelsior!" on the big screen! It's a great match, and it'd be practically guaranteed Cranston would give an excellent performance as Lee.
In all seriousness, if a Stan Lee movie is made in the next couple years, Cranston would be a great choice to play him. Sure, they'd need to cast a younger actor to play Lee when he got his start in the 1940s, but with some makeup or technology applied to make him look a little younger, Cranston is at the right age to play him in his Marvel heyday across the 1960s, when he created the Fantastic Four, Spider-Man, Hulk, X-Men, Iron Man, etc. They could then fast forward to show an older-looking Cranston playing Lee in a few Marvel movie cameos. Of course, you'd need the right supporting cast to play his loved ones/fellow employees at Marvel, like his wife Joan, Jack Kirby, Steve Ditko, John Romita, etc. All this being said, obviously the project wouldn't get off the ground without Marvel and Disney's consent, so if anyone legitimately does write a compelling script for a Stan Lee biopic, they'll have to run it past those corporations to get the green light.
If we're lucky, we can expect to see Stan Lee continue his cameoing later this year in Doctor Strange. For now, let us know if you think a Bryan Cranston-led Stan Lee biopic is a cool idea in the comments below.
Connoisseur of Marvel, DC, Star Wars, John Wick, MonsterVerse and Doctor Who lore. He's aware he looks like Harry Potter and Clark Kent.
Your Daily Blend of Entertainment News
Thank you for signing up to CinemaBlend. You will receive a verification email shortly.
There was a problem. Please refresh the page and try again.