Spider-Man May Swing Outside Of New York City To Fight Crime In Homecoming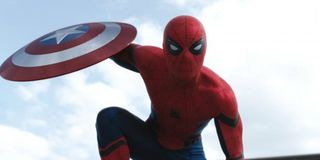 Marvel Cinematic Universe fans were introduced to this continuity's Spider-Man last May in Captain America: Civil War, and only a month later, his solo movie, Spider-Man: Homecoming, began shooting in Atlanta, Georgia. The last month has seen a lot of casting announcements for the blockbuster, but not much in the way of specific plot details. However, a new behind-the-scenes look reveals that some of the new Spider-Man movie's action may be taking place in Washington D.C.
Leaked set photos from the Spider-Man: Homecoming set were recently posted on Looper. You can head over there to look at the photos for yourself, but they show Tom Holland in his Spider-Man costume, which, as we know from Captain America: Civil War, will be enhanced and touched up in post production. While the shooting is still happening in Atlanta, this particular scene features Holland's Peter Parker donning his costume during a school trip to Washington D.C. That means Spidey will be getting into some crimefighting shenanigans not only in the United States capitol, but where the majority of Captain America: The Winter Soldier took place. The action is taking place around a construction area, where the Web-Slinger runs alongside a cement truck and jumps into it. It's unclear whether Spidey is fighting the movie's main super villain or regular street criminals, but either way, he has his hands full.
It's good to see that even though the majority of Spider-Man: Homecoming will be taking place in Queens and New York City, he'll get some distance from those areas at some point during the story. Don't get me wrong, it's always great to see Spider-Man spinning his webs in the Big Apple, but as we've seen in many Marvel movies, these heroes aren't just limited to fighting the bad guys in one location. Peter Parker's already seen some action in Germany, and now he gets to fight the bad guys in Washington D.C. Just because he's on a school trip and away from his home turf doesn't mean he can't still suit up as the Friendly Neighborhood Spider-Man, even if the "neighborhood" is different.
Along with the Washington D.C. information, one of the Spider-Man: Homecoming set photos showed Tom Holland holding a cell phone in costume during the scene. The Looper piece speculated that this could be one of the tech upgrades that Tony Stark built for Peter Parker, with the phone somehow fitting into the mask. That remains to be seen, but we do know from the Captain America: Civil War post-credits scene that Peter will definitely have some cool, new gadgets to use in the field thanks to Tony, which may make stopping these criminals in Washington D.C. easier.
Spider-Man: Homecoming swings into theaters on July 7, 2017.
Connoisseur of Marvel, DC, Star Wars, John Wick, MonsterVerse and Doctor Who lore. He's aware he looks like Harry Potter and Clark Kent.
Your Daily Blend of Entertainment News
Thank you for signing up to CinemaBlend. You will receive a verification email shortly.
There was a problem. Please refresh the page and try again.