What The Joker's Trying To Pull Off In Suicide Squad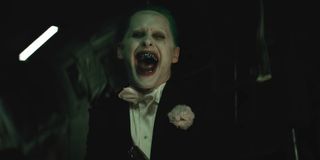 Most of the villains in Suicide Squad belong to the eponymous team because they've been forcibly recruited by Amanda Waller to go on a dangerous mission. That's why they're the "Worst Heroes Ever," but there's one wild card among the mix: The Joker. While he's been seen in the trailers causing his usual brand of chaos, DC and Warner Bros have been cagey about his exact role in the movie, as he's way too dangerous and unpredictable to be in the Squad. Now his main goal has been revealed, and it's actually quite simple: to find Harley Quinn.
According to EW, Joker will interfere with the Suicide Squad when he enacts a "laser-like plan" to reunite with his clownish girlfriend, described as his "true love." Although Joker and Harley Quinn are arguably DC's most well known villainous couple, various stories over the years have depicted the Clown Prince of Crime as being abusive to her and only keeping her around for her skills and because she amuses him from time to time. Rarely has he ever truly loved her, because someone that psychopathic can only love himself. We're suspecting Suicide Squad will be the same case, which begs the question: what does Harley have or is capable of doing that he needs her for? It has to be something big, otherwise he wouldn't risk getting captured by the authorities or having to fight the other super villains.
Fans have known Joker has a key role in Suicide Squad for over a year and a half, until today, few details emerged about how he fit into the story. The trailers and official images revealed that we would see him meeting Harley Quinn, originally one of the doctors at Arkham Asylum, and manipulating and torturing her into becoming his main squeeze. This includes tossing her into the same vat of chemicals that bleached his skin white, colored his lips red and dyed his hair green. We've also seen some shots of him committing various crimes and even getting into a car chase with Batman. However, in terms of his connection to the Squad itself, now we know that he wants Harley back and will do whatever it takes to snag her from the other villains. Whether she'll be willing to go with him is another matter. Sure she's been enamored with him, but we've also seen her distancing herself from her in the comics, so maybe she wants a fresh start in the DCEU, too.
Joker's involvement with the Suicide Squad in live action is almost the exact opposite of the animated movie Batman: Assault on Arkham, where he only got wrapped up with the team when they went to kill Riddler at Arkham Asylum, which led to him being accidentally freed from his cell. Given how big of a villain he is, not to mention a solo Batman movie on the way, we can reasonably presume that Jared Leto's Joker will make it out of Suicide Squad alive. Now we just have to wait and see what he ends up doing that throws a wrench into the Squad's mission.
You can see Joker's next round of cinematic antics when Suicide Squad hits theaters on August 5.
Connoisseur of Marvel, DC, Star Wars, John Wick, MonsterVerse and Doctor Who lore. He's aware he looks like Harry Potter and Clark Kent.
Your Daily Blend of Entertainment News
Thank you for signing up to CinemaBlend. You will receive a verification email shortly.
There was a problem. Please refresh the page and try again.