Loving Trailer Puts Heartbreaking Interracial Romance Into The Oscar Race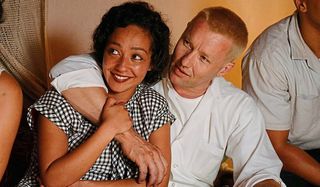 I know it's only July, but studios are already gearing up for Oscar season. Not only were we recently privy to the first footage for Clint Eastwood and Tom Hanks' Sully, but now the trailer for the drama Loving has also been released. It's an emotional tour-de-force, too, and in just a couple of minutes it makes it very clear that it has all the ingredients to be a bona-fide awards season contender come the end of next year, especially since its tackling an issue that unfortunately is still so rife in the US today. You can take it all in by clicking on the link below.
Loving tells the true story of Richard and Mildred Loving, Virginia natives who traveled to Washington, D.C. in 1958 to marry. In doing so they evaded Virginia's Racial Integrity Act Of 1924, which was imposed to make marriage between whites and non-whites a crime.
After returning to Virginia they were arrested and sentenced to prison in 1958, and, in order for their sentence to be suspended for 25 years, they soon made their home in Washington D.C. However, by 1964 the couple had become frustrated by their inability to travel to see their families in Virginia and they began legal proceedings against the state, which went all the way up to the Supreme Court who found that laws prohibiting interracial marriage were unconstitutional.
Written and directed by Jeff Nichols, Loving's trailer immediately teases superlative and stirring performances from its leading stars Joel Edgerton and Ruth Negga, who play the aptly named Richard and Mildred Loving, respectively. This is the second time that Joel Edgerton has teamed up with Jeff Nichols, following their collaboration on Midnight Special earlier this year.
Negga will mostly be familiar with moviegoers because of her work in Fury, World War Z, Jimi: All Is By My Side, and, most recently, Warcraft, while she has been wowing comic-book fans with her performances in Preacher as Tulip O'Hare in the last few weeks after also appearing as Raina in Marvel's Agents Of S.H.I.E.L.D.
While it remains to be seen whether Nichols, Negga, and Edgerton can carry the film and impress the awards season powers that be -- even though the trailer suggests they'll do just that with ease -- I'm going to predict that Michael Shannon's role as the photographer who shot the family for Life Magazine, Grey Villet, will result in him landing a Best Supporting Actor nod.
And while I was immediately entranced and impressed by the debut trailer for Loving, which was met by a standing ovation at its Cannes screening, I did take umbrage with its use of Carter Burwell's stunning score fromthe 2010 remake of True Grit. Re-using it just feels a little lazy. Still, that's only a minor fault, and I'm certain that come Loving's release on November 4, 2016, its major positives will reduce this to an after-thought.
Your Daily Blend of Entertainment News