The Heartbreaking Story That Inspired Jeff Nichols To Write Midnight Special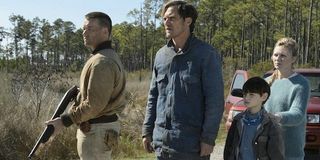 Midnight Special is a film about many things. On the one hand, it's about a father and a son bonding, while it's also equally a road-trip, sci-fi thriller too. We've come to expect this level of genre-defying storytelling from Jeff Nichols. Every film has to start somewhere, and the Mud and Take Shelter director admitted that the catalyst and inspiration to write Midnight Special came after almost losing his eight-month-old son.
Jeff Nichols revealed this when he recently sat down with a small group of reporters including myself for a roundtable interview to discuss Midnight Special. While the film can easily be pigeonholed into several genres, the core weight of the story, and its scant plot, comes from a very real and tangible place. When I asked how Midnight Special came to be, Nichols' candid explanation revealed exactly why the film is so fraught with emotion:
Jeff Nichols also confessed that his own fears of the world have been imbued throughout his previous movies. In fact, he suggested that he uses his own body of work as a way of analysing these issues. Of course, he's well aware that a film can't just be about fear though. That's just a starting point. Nichols continued:
Despite the fear that vibrates through Midnight Special, Jeff Nichols still has a very sweet and heartbreaking reaction that he wants audiences to have after watching the film.
You'll be able to see if Midnight Special inspires you to do just that when it's released this coming Friday, March 18.
Your Daily Blend of Entertainment News
Your Daily Blend of Entertainment News
Thank you for signing up to CinemaBlend. You will receive a verification email shortly.
There was a problem. Please refresh the page and try again.