Why The Gunslinger's Race Shouldn't Matter To The Dark Tower, According To Idris Elba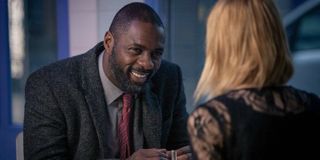 Idris Elba has immediately looked to nip any discussions regarding the race of his character The Gunslinger in The Dark Tower in the bud before online fervour can reach a fever pitch. Elba insisted that the character's ethnicity is never mentioned, and that the only indication that he's white came courtesy of the book's artwork rather than from writer Stephen King himself.
Ibris Elba made these remarks to Entertainment Weekly while out shooting the hugely anticipated adaptation of The Dark Tower in Cape Town, South Africa. Elba explained:
This isn't the first time that Idris Elba has found himself embroiled in a discussion about his race and a role. Thanks to his effortlessly cool, insatiably macho, but still preposterously charismatic persona, Elba has repeatedly found himself being suggested as a future James Bond.
With Daniel Craig set to depart the role after four films there's still every chance that Elba will take over the iconic character, even though some online naysayers insist he's not quite right for it, comments that usually come hand in hand with racist undertones.
Depressingly, there have been similar squabbles over the decision to cast Elba as The Gunslinger in the long touted cinematic adaptation of The Dark Tower which has been in development since 2007. J.J. Abrams was initially linked and interested in trying to bring Stephen King's epic tale, which consists of 4,250 pages over eight novels, to the big-screen. Then it was announced that Universal Pictures planned on making a trilogy of feature films that would be made to coincide with two television series that bridged the gaps between the films.
However, this plan was soon shelved, and the film ultimately found itself circling around a number of different writers and directors, before Nikolaj Arcel, who co-wrote and directed 2012's A Royal Affair, signed up to finally make it a reality. Arcel soon cast two perfect actors for the parts of The Gunslinger and The Man In Black, with Idris Elba being joined by Matthew McConaughey on the film.
Set in the dimension of Mid-World, which has been ravaged by an apocalypse, Nikolaj Arcel is set to pick and then mix a variety of threads from The Dark Tower saga into his version, in a similar fashion to how comic book movies mix decades old plots to create a new origins for the likes of Superman, Batman, Iron Man, Captain America etc. We'll finally get to see how the color blind casting of Idris Elba turned out when The Dark Tower is released on February 17, 2017.
Your Daily Blend of Entertainment News
Thank you for signing up to CinemaBlend. You will receive a verification email shortly.
There was a problem. Please refresh the page and try again.