Classic James Bond Villain Doesn't Want To See A Black 007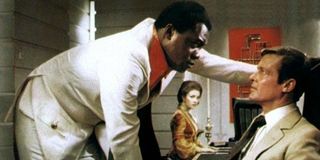 Under Daniel Craig, James Bond's evolution from a cold-hearted, borderline psychotic killer to a less dashing, more vulnerable and emotional human has struck a chord with so many 007 fans that they don't want his run to stop. Some believe that the perfect way to move forward is to cast Idris Elba as the first black Bond, but legendary Live And Let Die antagonist Yaphet Kotto believes that James Bond should always be white.
The 75-year-old Kotto, who portrayed Dr. Kananga/Mr. Big opposite Roger Moore's 007 in the 1973 spy flick, spoke to The Big Issue about his feelings regarding Bond potentially being black and he is adamant that shouldn't occur. Kotto explained:
The Wire and Luther star has been singled out by many as the perfect candidate if producers decided to cast a black actor as James Bond. The statuesque 42-year-old has the presence, charisma, and intensity to do the character justice, while he's also undoubtedly handsome and looks rather spiffy in a suit and tie. He probably looks right a home with a martini in his hands, too.
Idris Elba himself has also insisted that he would be open to playing the coveted part, which isn't a surprise considering the impact that it would obviously have on his career. However, he has also kept his distance from ever confirming that he's even held discussions with Bond producers about replacing Daniel Craig when the current 007's contract runs out. In fact, earlier this week, Elba told a British Film Institute audience, via The Hollywood Reporter, that he blamed Craig for starting the rumors that he was even in the running, while he also noted that the huge hype surrounding his potential casting has probably all but ruined his chances of ever portraying the iconic spy.
Purists are adamant that James Bond should remain as close to Ian Fleming's original creation as possible. Just last month, Roger Moore accidentally got himself caught up in a slight race-row after the Daily Mail alleged that he said Idris Elba couldn't play James Bond because he was not "English-English," something that he later clarified on Twitter.
The 87-year-old's remarks prove just how sensitive this subject is. While you can understand why diehard fans want the character to remain as close to the source material as possible, others will argue that Bond has now developed into such a pop culture phenomenon that he should continue to evolve with the times. However, at the moment, this conversation is redundant as Daniel Craig is reportedly contracted for one more film after this winter's Spectre, the teaser trailer for which suggests that it will be just as moody, pensive, and engrossing as 2012's Skyfall.
Your Daily Blend of Entertainment News
Your Daily Blend of Entertainment News
Thank you for signing up to CinemaBlend. You will receive a verification email shortly.
There was a problem. Please refresh the page and try again.