The LEGO Batman Trailer Is Hilarious And Of Course, Awesome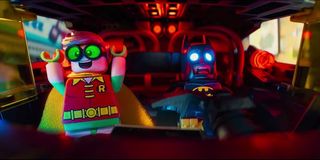 Regardless of whether you're a DC or Marvel fan, there's one universal truth: Batman is awesome. And if you're a fan of the Bats (and really, why wouldn't you be?) then you're in luck, because he's everywhere. In addition to Ben Affleck's portrayal of the Dark Knight in the DC Extended Universe, we're also given some unconventional big screen adventures. Batman: The Killing Joke is heading to theaters in just a few short days, and Warner Bros. just released a new trailer for the highly anticipated and highly ridiculous The Lego Batman Movie. Check out all of the campy goodness below.
Although the original teaser was funny, this trailer really took it over the top and made me excited for The Lego Batman Movie to hit theaters. And I'm guessing I'm not the only one.
While we were first introduced to Will Arnett's Batman in The Lego Movie, this trailer really begins to flesh the character out. Batman is a badass and he knows it, but it turns out he isn't living the healthiest of lifestyles. He's apparently in need for an intervention and his buddy and butler Alfred Pennyworth, voiced by the incomparable and often terrifying Ralph Fiennes, is just the one to do it. In addition to reintroducing Bruce Wayne to sunlight and people, it looks like Batman has a very different mission to accomplish this time around: to actually care for his ward Dick Grayson.
Much of the hilarity in the above trailer revolves around the interactions between Batman and the inexperienced Robin, voiced by Michael Cera. An unknowing Dick Grayson ends up wandering down to the Batcave, amazed that Batman "lives in Bruce Wayne's basement" because apparently he can't put two and two together. Eventually, Batman decides to take Dick under his wing, and they begin the training process.
Rather than inventing the identity of Robin, Batman and Dick hilariously go through Bat's endless supply of costumes for him. Eventually, they find the culturally offensive "Reggae Man" costume, complete with dreads and a guitar. In Lego Land, that's what the R on Robin's costume actually stands for. But when Dick finally dons the outfit, he discovers that the tight pants are simply too uncomfortable, and he makes a change. Robin gets down to green undies, echoing the somewhat ridiculous original costume from the comics.
What's your favorite part of The Lego Batman Movie trailer? The Joker? Sound off in the comments below.
Your Daily Blend of Entertainment News
Thank you for signing up to CinemaBlend. You will receive a verification email shortly.
There was a problem. Please refresh the page and try again.