Why Matt Damon Agreed To Cameo In EuroTrip, According To Matt Damon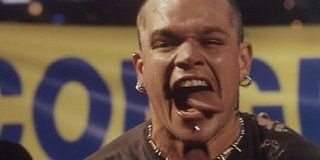 The best movie cameos are the ones that pop up out of nowhere, when you see an actor you know in the last place you expect. One of the all-time unexpected cameos had to be seeing an Academy Award winner in a low-budget sex comedy. How in the hell did Matt Damon end up in 2004's Eurotrip? As it turns out, he was old friends with the writers, and he was in town.
Early in the movie Eurotrip, a band starts playing at a high school party which is fronted by a bald and pierced Matt Damon. This was the same Matt Damon who won an Oscar for Good Will Hunting and had recently become an action hero thanks to The Bourne Identity, so it led to many questioning how such a bizarre cameo happened. Matt Damon recently explained in a Reddit AMA that he was already in Prague filming when his old college friends, who wrote Eurotrip, called him up and asked him to be in it. Sure, why not.
The scene is probably the most famous in the entire film, and not even because Matt Damon is in it. The band performs a song about how the band leader is sleeping with another guy's girlfriend. "Scotty Doesn't Know" is the way that the movie's lead discovers that his girlfriend was cheating on him. He then heads off to Europe to get away from it all, where the song follows him everywhere. And it's catchy as all hell.
And now that's you've listened to "Scotty Doesn't Know" for the first time in several years, you'll now be singing it in your head all day long. You're welcome.
There are few friends I would shave my head for, wig or not. Here's to Matt Damon going the extra mile for some friends. Now, I think I need to go watch Eurotrip again.
That's not even the best story Matt Damon shared this week. Someone asked him about the time South Park DESTROYED him in Team America. His opinion on that movie is an instant classic. Read on to see what he said!
When you're a celebrity in the public eye it's pretty much expected that you will be the butt of jokes; it's difficult to avoid. Matt Damon was among many targets in Team America: World Police, and the actor recently spoke about his caricature in puppet form. One might expect that Damon would be mildly insulted that his character in the film is only capable of saying his own name in the film. Either that, or maybe the actor took it in good fun and laughed along with everybody else. As it turns out, his reaction isn't really either of those things. He's mostly just confused by it.
Read the rest of his quote right here!
And check out the trailer for The Great Wall next...
Your Daily Blend of Entertainment News
Content Producer/Theme Park Beat
CinemaBlend's resident theme park junkie and amateur Disney historian. Armchair Imagineer. Epcot Stan. Future Club 33 Member.
Your Daily Blend of Entertainment News
Thank you for signing up to CinemaBlend. You will receive a verification email shortly.
There was a problem. Please refresh the page and try again.