New Star Wars Theory Actually Connects Rey To A Classic Franchise Villain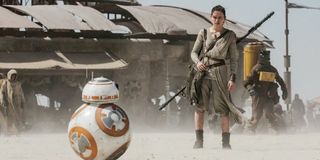 Star Wars: The Force Awakens may been an excellent debut for Daisy Ridley's Rey, but the movie also left behind plenty of questions about her past. Left on Jakku at a young age, Rey didn't have any memory of who her parents are or where she came from. Now one fan has analyzed the evidence at hand and formed a theory connecting her and Emperor Palpatine together, calling her the Sith Lord's granddaughter.
A speculative video from YouTube user Vincent Vendetta has been making the rounds recently that points out the similarities between what we see of Rey in Star Wars: The Force Awakens and Palpatine's previous appearances. First, he notes that Rey's opening move when battling Kylo Ren's is the same forward thrust as Palpatine's when fighting Mace Windu and the other three Jedi in Revenge of the Sith. Then he points out how in The Force Awakens novelization (which is canon), a mysterious voice in Rey's head told her to kill Kylo Ren, which this guy believes his Palpatine calling to her. From there, he covers several other bases, from how Luke being Rey's father would be too obvious to how Kylo Ren seems to know her when he corners her in the forest on Starkiller Base.
By the end of the video, the narrator explains how when push comes to shove, having Rey as Palpatine's granddaughter would be interesting storytelling. While Kylo Ren, a Skywalker, betrayed his uncle and went to the Dark Side, Rey, assuming she is a Palpatine, will have escaped her grandfather's shadow and gone to the light side of The Force. That not only adds weight to Rey and Kylo's fight, but also would explain Luke Skywalker's "apprehensive" look at the very end, knowing she's related to his worst enemy. Of course, as with many speculations, this theory assumes a lot of the "hints" in Star Wars: The Force Awakens are deliberately connected rather than just coincidental.
Although Palpatine was a key figure in the previous two Star Wars trilogies, he was tossed into a reactor shaft by Darth Vader in Return of the Jedi, and since the second Death Star was destroyed soon after, we can safely assume that he's dead. There was also no indication in the Prequel Trilogy that Palpatine was romantically involved with anyone. He seemed like the kind of guy who was married to his work, i.e. plotting and inflicting pain with his Sith abilities. We'll have to wait and see whether he has any ties to this new chapter in the saga, but for now, there just isn't enough evidence to make a definitive call.
You can watch the video below to see the Rey/Palpatine theory unfold in its entirety.
We'll learn more about Rey's past when Star Wars: Episode VIII is released on December 15, 2017.
Your Daily Blend of Entertainment News
Connoisseur of Marvel, DC, Star Wars, John Wick, MonsterVerse and Doctor Who lore. He's aware he looks like Harry Potter and Clark Kent.