The Jonny Quest Movie Is Looking At Some Major Names As Warner Eyes A New Action Franchise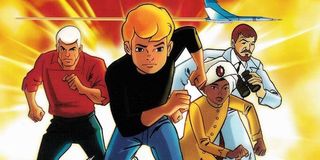 Jonny Quest was one of the more popular Hanna-Barbera cartoons in the 1960s, but it's countered a lot of difficulties being brought to the big screen. After years of being in development hell, it was announced last year that a Jonny Quest feature film adaptation was finally being made. There hasn't been much news since then, but a new update lists some notable A-list actors who are being looked at to play Race Bannon, the eponymous protagonist's bodyguard.
In the midst of their big review of the Robert Rodriguez and Terry Rossio-penned Jonny Quest screenplay (which was originally written by Dan Mazeau), Forbes listed Idris Elba, Bradley Cooper and Will Smith as being on Warner Bros' "wish list" to play Race Bannon. You can read the original article to learn the details about this movie, but the cinematic version of Race is reportedly a government agent who is a mix of Indiana Jones and Jason Bourne, and the movie will show his first meeting with the Quest family. Along with the actors, Joe Cornish, Justin Lin and Scott Derrickson were also mentioned as directors who've been looked at or discussed the project, but there's no word yet on who will actually helm Jonny Quest. If all goes well from here, production discussions may begin before 2016 is finished.
The original Jonny Quest TV series aired only for one season from 1964 to 1965, and followed the 11-year-old Johnny going on crazy, global, sci-fi packed adventures with Race, his father Benton, his adoptive brother Hadji and his dog Bandit. After decades of popularity in syndication, The New Adventures of Jonny Quest aired from 1986 to 1987 and picked up on where the first series left off. A relaunched series, titled The Real Adventures of Jonny Quest, aired from 1996 to 1997. Most recently, Jonny and his supporting cast have been major players in Future Quest, one of the many new Hanna-Barbera comic books DC Comics has started publishing. Since Future Quest has been receiving positive reviews, the series may help drum up enough interest in getting the live action movie rolling.
The Forbes piece later mentions that Warner Bros hopes that Jonny Quest can not only be be their next big franchise, but also kick off a Hanna-Barbera cinematic universe, in the same vein as the DC Extended Universe and the Harry Potter/Fantastic Beasts world. That was also said of the upcoming Scooby-Doo movie, though since that one will be animated, perhaps the studio will establish two Hanna-Barbera universes, with Jonny Quest kicking off the live action one. Who might the other characters in that universe be? That's hard to say right now, but if we look to Future Quest for inspiration, the candidates could include Space Ghost, the Herculoids, Birman and many more.
We'll keep you updated on how the Jonny Quest movie is progressing, but in the meantime, let us know in the comments below which actors or directors you'd like to see involved, whether they were previously mentioned or folks from elsewhere.
Connoisseur of Marvel, DC, Star Wars, John Wick, MonsterVerse and Doctor Who lore. He's aware he looks like Harry Potter and Clark Kent.
Your Daily Blend of Entertainment News
Thank you for signing up to CinemaBlend. You will receive a verification email shortly.
There was a problem. Please refresh the page and try again.