Jonny Quest Is Getting A Live Action Movie, Get The Details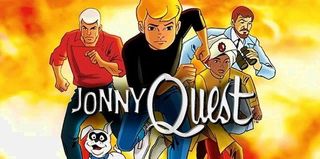 At this point, in the world we live in, it's no use lamenting the fact that all of your favorite things are being remade, re-envisioned, and otherwise rehashed, because that's just reality. And today we can add another one to the metaphorical woodpile, as Sin City and Machete director Robert Rodriguez is working on a live-action Jonny Quest movie.
Deadline reports that Rodriguez is teaming up with Warner Bros. in what will be yet another attempt to bring boy adventurer Jonny Quest to life on the silver screen. There's definite potential inherent in the story, and if handled correctly, this could very well tap into the same younger audience that Rodriguez lit up with Spy Kids. Though the second, third, and fourth movies in that franchise all met with gradually diminishing returns, the first still totally holds up and stands alongside some of the all time great kids movies.
The action revolves around the title character, a young boy who, along with his scientist dad, his best pal Hadji, their beefy bodyguard Race Bannon, and dog Bandit, traipses around the world having all kinds of action-packed adventures. It's kind of an Indiana Jones for a younger set, and could very easily be something a lot of kids movies aren't, a chance for the kids to truly be the hero. Jonny is smart and brave and capable, and doesn't always need to rely on the grown ups to swoop in and save the day at the last moment. Originally running for a season in 1964-1964, there were two more animated Jonny Quest shows to follow, one in the mid-1980s and another in the mid-'90s.
This is far from the first time that Jonny Quest has been eyed for a movie. Warner acquired the entire Hanna-Barbera collection a few years back as part of another deal with TBS, and they've tried numerous times to get an adaptation off the ground, with almost zero success thus far. Goonies director Richard Donner took a shot at one point, as did Peter Segal (50 First Dates), with no results. There was even an adaptation percolating that was reportedly going to star Zac Efron as Jonny, with Dwayne Johnson as Race Bannon, which would have been awesome, if in the same ballpark as The Rock's Journey movies.
This time around, the production will work from a draft by Dan Mazeau (Wrath of the Titans) that wound up on the Black List, an annual compendium of the best unproduced screenplays floating around Hollywood. With Robert Rodriguez set to take the helm, he is going to take a whack at rewriting the script, working with Terry Rossio (Pirates of the Caribbean: Curse of the Black Pearl). We'll have to wait and see if this version of Jonny Quest comes together and gets any farther than the previous tries.
Your Daily Blend of Entertainment News
Thank you for signing up to CinemaBlend. You will receive a verification email shortly.
There was a problem. Please refresh the page and try again.