What Mark Wahlberg Does When Fans Call Him Matt Damon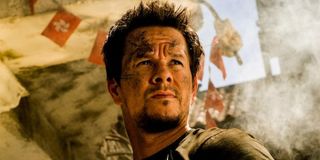 Patrick Swayze and Kurt Russell. Bill Paxton and Bill Pullman. Elijah Wood and Tobey Maguire. These represent just a few examples of actors that constantly get confused for one another. After all, Hollywood's a big place, and people can get mixed up along the way. Although this phenomenon would probably get old after a while, some celebrities have found ways deal with it better than others. Mark Wahlberg has long been confused with Matt Damon, but the former leader of the Funky Bunch has seemingly developed a hilarious method of handling these awkward situations. He simply doesn't correct anyone who makes the common mistake.
During a recent Extra interview with Mario Lopez, Mark Wahlberg revealed that fans constantly come up to him on the street and mistake him for Matt Damon. Whenever such an incident occurs, Wahlberg simply shrugs it off and goes with it in order to avoid embarrassment for all parties by thanking the fan and telling them to go see the latest Bourne movie. Wahlberg's known for being Hollywood's resident "tough guy," but it looks like he has no problem laughing at himself every once in a while. Apparently this isn't a one-sided phenomenon. Mark Wahlberg also revealed that Matt Damon has suffered through similar situations as well, as people have come up to the Oscar winner and praised him for his work in the Seth MacFarlane movie, Ted. Spoiler alert: that was Wahlberg.
It's not difficult to see why fans would confuse the two actors. Both are 45 years-old, both are from Massachusetts and both have a long string of action and comedy roles under their respective belts. It also probably doesn't help matters that they both appeared side-by-side in Martin Scorsese's 2006 crime drama, The Departed. They're clearly both cut from a very similar cloth.
The simple fact of the matter is that Mark Wahlberg is probably too busy to even think of getting offended by such incidents. Not only does he have a booming film career with upcoming projects like Transformers: The Last Knight, Deep Horizon and Patriots Day, but he's also currently producing the upcoming Shooter series for USA Network, and he has even become an entrepreneur in the workout supplement industry. Having to constantly remind fans that he isn't Matt Damon would only slow him down.
Of course, if these mix-ups keep happening, and Mark Wahlberg eventually gets fed up with the whole thing, we can think of at least one (particularly rash) thing he can do to stop people from getting him mixed up with Matt Damon. Those of you who have seen The Departed probably already know where I am headed with this, and it's not very pleasant:
Okay, so that might be a bit of an overreaction, and for now, we're glad to hear that Mark Wahlberg has shown nothing but love and support for his fellow thespian. We will bring you the latest and greatest news related to all of Mark Wahlberg's upcoming projects, but for now you can catch his apparent doppelganger, Matt Damon, in Jason Bourne, which is in theaters now.
Originally from Connecticut, Conner grew up in San Diego and graduated from Chapman University in 2014. He now lives in Los Angeles working in and around the entertainment industry and can mostly be found binging horror movies and chugging coffee.
Your Daily Blend of Entertainment News
Thank you for signing up to CinemaBlend. You will receive a verification email shortly.
There was a problem. Please refresh the page and try again.