The 15 Best Party School Movies, According To Fandango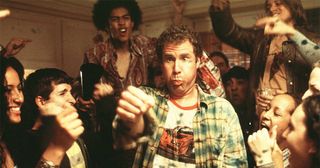 Slowly but surely the summer of 2016 has begun to come to a close. Some people lament this fact, but if you're doing school right, then you should know how to pack as many kickbacks, pregames, and full-blown ragers into the year as possible.
For those cinephiles out there with a passion for cutting loose and partying like there's no tomorrow, Fandango's new on-demand video service, FandangoNOW has compiled a list of the "best party school movies" of all time. Sit back, crack a beer, and check out the list below to see for yourself.
Party movies come in all shapes and sizes, and Fandango's list (based on a survey of respondents in the 18-34 age group) pretty much runs the gamut. For the college students with a passion for Greek life, there's Neighbors, Animal House, Old School, and The House Bunny. Then again, maybe you're a college student who never really gravitated towards the fraternity and sorority scene; there's nothing wrong with being a GDI. In that case you can check out Pitch Perfect, Accepted, and Van Wilder. Then there are the younger tikes who haven't quite made their way to an institution of higher learning just yet. For the high school party animals, the list features such classics as: Superbad, Dazed and Confused, and event the recent Project X.
Regardless of your preferences, all of these movies have become iconic for their nostalgic depictions of youthful recklessness, and relatable coming-of-age stupidity. Even the tamest ones among us probably have at least a single wild party story to reflect on, and these movies capture that spirit. If you happen to have an affinity for tons of fun, mild intoxication, and just a little bit of trouble, then you should consider any of these movies required viewing before the school year starts.
Fandango released the above list in conjunction with its brand new "Cash For College" sweepstakes. It's a raffle-style contest in which the grand prizewinner will receive $10,000 towards higher education, as well as a year of free movie tickets. Just think about it; with that much money to put towards your tuition, and a year without paying for movie tickets, you could spend so much more money on books, and by books I mean beer.
However, while most people like to party, not everybody knows how to properly throw a party. Fret not, Cinema Blend readers; the video below should give you a rough outline of everything you need in order to throw a rager to remember (or not remember) once the school year has officially kicked off. Check it out below.
See? There's nothing wrong with summer coming to an end. We've got movies, and we've got parties, and we've got party movies to keep us occupied until summer of 2017 rolls around. Did this list miss anything? Let us know what your favorite party movie is in the comments section below and keep the conversation going!
Your Daily Blend of Entertainment News
Originally from Connecticut, Conner grew up in San Diego and graduated from Chapman University in 2014. He now lives in Los Angeles working in and around the entertainment industry and can mostly be found binging horror movies and chugging coffee.