Ant-Man And The Wasp Is Bringing Back A Key Supporting Character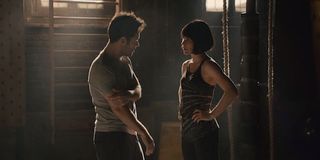 Ant-Man may not be the biggest Marvel superhero (figuratively and literally), but he's gotten off to a good start in the Marvel Cinematic Universe over the past year. Scott Lang and his supporting cast debuted in the aptly-named Ant-Man movie, and the Tiny Titan was one of the many heroes who participated in Captain America: Civil War this past May. In 2018, he'll return to fight evil alongside Hope van Dyne, who will have finally become The Wasp. Aside from those two protagonists, no other characters from the first movie had been confirmed to return for Ant-Man and the Wasp, but that changed today when it was reported that Michael Peña will reprise Scott's buddy Luis for the sequel.
After dropping the news that Michael Peña is starring the upcoming horror thriller The Bringing, THR mentioned that the actor is already primed to play Luis again for Ant-Man and the Wasp. Peña previously told our own Eric Eisenberg that his return seemed likely earlier this year, but now it seems to be a concrete deal. That makes him the third-Man actor confirmed to return besides Paul Rudd and Evangeline Lilly. There's a good chance that fans will see Michael Douglas return to play Hank Pym, but that hasn't been officially confirmed yet. There's also no word if we'll see Luis' fellow thieves, Dave and Kurt, return as well.
Luis was introduced in Ant-Man as Scott Lang's former roommate in prison, and after Scott completed his sentence, Luis was there to pick him up. Soon after, Scott joined his buddy, Dave and Kurt in their criminal shenanigans, but those "three wombats" (as Hank Pym called them) got to prove their worth by helping infiltrate Cross Technologies to stop Darren Cross, with Luis specifically going undercover as a guard. Many will agree that Luis continually stole the proverbial show with his contagious enthusiasm and his tales of learning juicy information while at art shows and wine tastings. Ant-Man and the Wasp definitely needs to have at least one of these funny moments. Perhaps he heard something interesting while seeing a Hamilton performance?
When we last saw Ant-Man in Captain America: Civil War, he had been imprisoned at the Raft with Scarlet Witch, Hawkeye and Falcon after they were captured by Iron Man Man's forces, but they were all broken out at the end by Steve Rogers. Scott is no stranger to being a criminal, but being on the run for being an unregistered superhero is a lot different than being imprisoned for "burglarizing." Since the authorities likely won't be willing to help, maybe Scott Lang and Hope van Dyne will seek out Luis for some unorthodox assistance, and he'll enjoy every minute of it.
Ant-Man and the Wasp hits theaters on July 6, 2018, with shooting scheduled to begin sometime in July 2017. As for Michael Peña, you can see him next playing Simon Scott in the comedy-drama Collateral Beauty on December 16.
Connoisseur of Marvel, DC, Star Wars, John Wick, MonsterVerse and Doctor Who lore. He's aware he looks like Harry Potter and Clark Kent.
Your Daily Blend of Entertainment News
Thank you for signing up to CinemaBlend. You will receive a verification email shortly.
There was a problem. Please refresh the page and try again.