A Spooky Shadows Looms Over Spider-Man In New Video From Marvel's Homecoming Set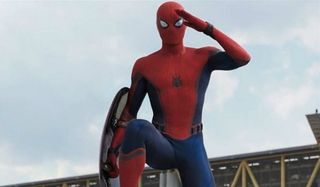 It has already been confirmed that Spider-Man: Homecoming's main villain will be played by Michael Keaton, who will be bringing Vulture to the big-screen for the first time - but he's just one of many dangerous foes, as Bokeem Woodbine, Logan Marshall-Green and Michael Chernus will reportedly be playing baddies as well. That's a good number of antagonists, and director Jon Watts took to social media over the weekend to hint at the shadowy villainy that Peter Parker will go up against in the blockbuster... and it makes for some pretty moody viewing.
Obviously it's impossible to tell exactly what's casting a shadow over Tom Holland in this clip - posted to director Jon Watt's personal Instagram account - but the video creates a nice creepy atmosphere. We haven't actually seen an official shot of Michael Keaton in his Vulture costume just yet, so perhaps this is a tease of just that. Regardless of who it is, though, the fact that Tom Holland's Spider-Man is sat forlornly perhaps suggests that the hero has quite the challenge ahead of him in battle.
For those unfamiliar with the character from the comics, Vulture is widely regarded as one of Spider-Man's classic foes. He begins life as Adrian Toomes, an aging inventor who creates a suit that not only allows him to fly, but also enhances his strength. After losing his job, he takes to a life of crime - a field in which he does quite well in provided that Spider-Man isn't around to mess up his day. We expect that there will be certain changes made to the character for his live-action debut in Spider-Man__: Homecoming, but the core details will likely remain.
Like many modern directors, Jon Watts has done a pretty stellar job of keeping Spider-Man and Marvel fans completely up to date with the development of Spider-Man: Homecoming__. Watts, who was hired to oversee the mega blockbuster after his impressive debut film Cop Car, has packed his social media account with various images and videos that show Tom Holland, Zendaya, and various other members of the movie's cast and crew working tirelessly to bring it to the big-screen.
Of course, while the movie will be the live-action debut of the Vulture, this won't actually be the first time that we'll get to see Tom Holland as Peter Parker in the Marvel Cinematic Universe. Holland stole all of his scenes as Spider-Man earlier this summer as Captain America: Civil War. In fact, his superhero debut in Civil War increased anticipation tenfold ahead of Spider-Man: Homecoming's release next summer, as the British actor showed that he'll bring a bumbling, youthful energy to coveted role, while his comedic timing -- especially opposite Robert Downey Jr's Iron Man -- was top notch too.
We'll finally get to see Tom Holland as Peter Parker for more than a handful of scenes when Spider-Man: Homecoming is released into cinemas on July 7, 2017. And, barring a catastrophe, it should be the first of several films for the superhero with Marvel.
Your Daily Blend of Entertainment News
Thank you for signing up to CinemaBlend. You will receive a verification email shortly.
There was a problem. Please refresh the page and try again.