Jerry Seinfeld Has A Really Funny Idea For A Star Wars Character He Could Play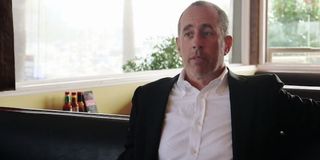 Last Christmas, we finally saw the triumphant return of the Star Wars universe with the release of the seventh installment to its cinematic universe, The Force Awakens. While most moviegoers couldn't help but feel all warm and gooey inside because of the blockbuster, Jerry Seinfeld has admitted that there is one way to immediately improve the franchise: add him to it. And while Jerry Seinfeld was obviously joking, it's hard not to immediately be enamored with his idea.
Jerry Seinfeld made this joke while chatting to The Hollywood Reporter about the recent Emmy nomination for Comedians In Cars Getting Coffee, which will vie for the Outstanding Variety Talk Series gong. But the chat soon turned to his future projects and whether a big name director could coax him to star in a mega franchise. This led Seinfeld to quip:
Unfortunately for moviegoers, Jerry Seinfeld is well aware of how unlikely it is that he will actually be asked to star in a Star Wars film, though. That's because he knows that his unique view-point and comedic sensibilities wouldn't quite mesh with the goings on in a galaxy far, far away. After being asked whether someone like Steven Spielberg could convince him onto the big screen for a tentpole pic Jerry Seinfeld remarked:
While Jerry Seinfeld is probably right in his assumption that his comedic voice might not quite suit the Star Wars universe, surely it's rude not to try. Considering his alleged wealth, too, Seinfeld could probably bankroll his very own Star Wars offshoot and spinoff. Just as long as he doesn't refer to the lightsaber battles as laser fighting.
But it would be much more interesting to see him go at it with the backing of Lucasfilm. Especially as they would have to try to pair it up with the quickly expanding Star Wars universe, which is not only going to see at least two more sequels to The Force Awakens but will also include Rogue One, due out later this year, as well as a Han Solo origin film and, allegedly, a Boba Fett origin film, too.
The main problem with Jerry Seinfeld's idea, though, is that it's hard not to imagine that any character that he'd portray wouldn't immediately be killed. Especially if he was on the dark side.
Still, he really couldn't be any worse than Jar-Jar Binks.
Your Daily Blend of Entertainment News
Thank you for signing up to CinemaBlend. You will receive a verification email shortly.
There was a problem. Please refresh the page and try again.