Josh Gad's A Dog's Purpose Trailer Will Melt Your Heart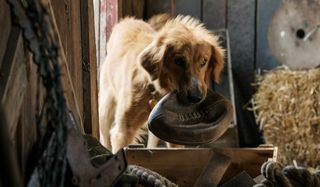 Want to see Josh Gad voicing the thoughts of a dog? If you said yes, then I'm guessing you'd be happy to see Josh Gad voicing the thoughts of several dogs, too. Well you're in luck, because that's basically the premise for A Dog's Purpose, the trailer for which has just been released and is actually rather emotional.
While I'm not going to instantly dismiss A Dog's Purpose before it's released, the thought of seeing several dogs die throughout the course of a film while their human owners weep uncontrollably at their loss is rather hard to get excited about. However, as the heart-breaking Marley & Me so emphatically proved back in 2008, when it managed to gross $247.8 million from just a $60 million budget, there is clearly a market for films with canines as main characters. With A Dog's Purpose due for release during the barren cinematic spell of late January/early February there's every chance that it could prove to be just as successful. This preview certainly made a good first impression.
Based on W. Bruce Cameron's book of the same name, A Dog's Purpose will see Josh Gad voicing numerous dogs over the course of the film, each of which sadly die only to be reincarnated as a new puppy immediately after. Over the course of the film, Cameron looks to find purpose in each of his lives, which, as the trailer reveals, basically boils down to, "If I can get you licking and loving, I have my purpose." Which is a mantra that we can all live by.
Released in 2010, Cameron's novel received plaudits from book reviewers who labelled it an emotional read, while it also proved to be a hit with readers, too, as it remained a New York Times bestseller for forty-nine weeks. Obviously this soon brought it to the attention of Hollywood, and Universal Pictures will be the studio to bring it to the big screen. Audrey Wells, who previously scribed George Of The Jungle, Shall We Dance? and Under The Tuscan Sun, has adapted the novel, while Academy Award-nominated director Lasse Hallstrom has overseen the film. Hallstrom previously directed The Cider House Rules, What's Eating Gilbert Grape, Chocolat, and The Shipping News, which suggests that there's some potential in A Dog's Purpose after all. Plus, it stars Dennis Quaid, and he's always watchable.
We'll find out for ourselves if A Dog's Purpose is worthwhile when it is released on January 27, 2017.
Your Daily Blend of Entertainment News
Thank you for signing up to CinemaBlend. You will receive a verification email shortly.
There was a problem. Please refresh the page and try again.