The Mascots Trailer Is Filled With Drugs, Sex And Death, Because Christopher Guest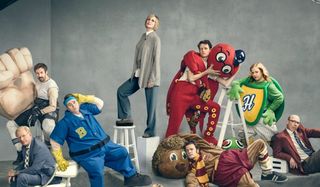 Christopher Guest has long established himself as the king of the mockumentary genre. After writing and starring in This Is Spinal Tap, and then repeating these roles as well as directing Waiting For Guffman, Best In Show, A Mighty Wind, and For Your Consideration, it's clear to see why he's so lauded, and why any new project of his is so eagerly anticipated. Step forward Mascots, the latest comedy from Christopher Guest, which features his usual team of actors, plus some exciting new faces, and looks downright hilarious. You can check out the trailer for Mascots below.
So many LOLs. From Zach Woods' insistence that being a mascot is similar to being married because even when people scream at you, you're not allowed to talk back to Fred Willard's painfully inappropriate question about whether the man who is simply trying to eat has been shrunk down to fit into his suit, Mascots included more laughs in its trailer than most mainstream comedies produce in their entire running time.
It seems like Christopher Guest has once again found the perfect premise and world to lampoon, while at the same time gently paying tribute to it, too. Sure, there might be some of you that are worried because this will be Christopher Guest's first collaboration with Netflix. But his lo-fi approach should be perfectly at home with the streaming site, and shouldn't disrupt his comedic rhythm.
As you could have probably guessed and can easily tell from the above, Mascots revolves around a number of sports mascots that vie for supremacy in the World Mascot Association championship's Gold Fluffy Award. Obviously along the way, the competition becomes so rife that the talent finds themselves jostling for attention in repeatedly outrageous ways, while it looks like death, sex, and drugs will trip some of the mascots up at some point, too.
Once again, Christopher Guest has been duly assisted in assembling Mascots by Jane Lynch, Parker Posey, Ed Begley, Jr, Bob Balaban, John Michael Higgins, and Jennifer Coolidge, each of whom have appeared and then excelled in the filmmakers' previous work.
But while, disappointingly, there doesn't appear to have been room for the likes of Michael McKean, Eugene Levy, and Catherine O'Hara, Christopher Guest has added younger comedians, in the shape of Chris O'Dowd, who previously worked with Guest on HBO's The Family Tree, Zach Woods (In The Loop, Ghostbusters), and Sarah Baker (Louie), who each look like they've instantly taken to his style and approach.
We'll see if they've actually done just that when Mascots is finally released on Netflix on October 13, while it's set to have its premiere at the Toronto International Film Festival later this month, too, so watch out for its reviews.
Your Daily Blend of Entertainment News