7 Frontrunners For This Year's Best Actor Oscar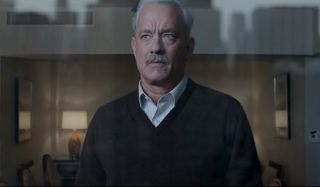 Even though we've got to go through 6 whole months before the 89th Academy Awards is scheduled to take place on February 26, 2017, the film industry is already gearing towards the ceremony. Starting this weekend with The Light Between Oceans, starring Michael Fassbender opposite Alicia Vikander and Rachel Weisz, we get our first real taste of Oscar hunting output, which will be followed next Friday with Clint Eastwood's Sully, which stars Tom Hanks in its lead role.
While these films will have to build up a head of steam to be in the race for Best Picture nominations, there's every chance that one or both of Tom Hanks or Michael Fassbender will be in contention for the Best Actor gong. But which actors deserve to be in the running for the five available Best Actor nominations come February? Well, take a gander below to see the frontrunners.
Tom Hanks - Sully
Clint Eastwood directing Tom Hanks in a tale of an American hero that saved the lives of hundreds of people is Oscar bait if I've ever heard it. Sully sees Hanks portraying Chesley Sullenberger, who back in 2009 crash landed the stricken US Airways Flight 1549 on the Hudson River and then struggled to survive the invasion of his private life that followed. There are a few reasons why Tom Hanks deserves yet another Oscar nomination. First of all, he's Tom Hanks. Need more? OK, well he's one of the most talented thespians that has ever stood in front of a camera, something that his rack of accolades throughout his career has already proven. But, for me, it's the fact that Tom Hanks wasn't nominated for a Best Actor Oscar for his performance in Captain Phillips, or a Best Supporting Actor Oscar for Saving Mr. Banks, that really underlines why he deserves another shot at his third Best Actor gong. Still doesn't forgive his hair in The Da Vinci Code, though.
Casey Affleck -- Manchester By The Sea
Having already received a Best Supporting Actor nomination for his work as the titular scaredy-cat in The Assassination Of Jesse James By The Coward Robert Ford, Manchester By The Sea marks the first real chance since then that Casey Affleck has been withing a shout of another nod. Sure, his performances in The Killer Inside Me and Ain't Them Bodies Saints were worthy of recognition, but since premiering at the Sundance Film Festival back in January, where it was purchased by Amazon Studios, Manchester By The Sea has been building up an impressive reputation thanks to some sterling reviews. Casey Affleck has been at the fore of this praise, with his restrained emotion and intensity being lauded as he has to deal with the sudden death of his older brother, and the fact that he's made the legal guardian of his nephew Patrick.
Miles Teller - Bleed For This
Most people are still a little unsure about Miles Teller. Cocksure interviews over the last few months, and the failures of Fantastic Four, Allegiant, and Get A Job have diminished his sterling work in the likes of The Spectacular Now and Whiplash that made him one of the most promising young actors in Hollywood. Bleed For This, which is the biopic of Vinny Paz, a struggling boxer that refuses to retire after a car crash breaks his neck, should help to change this stance. Bleed For This's trailers already suggest that Teller has gone all out for the role and he already appears mesmerizing, while it's another perfect chance for him to showcase the innate, but still redeemable, dickishness that he possesses, too.
Brad Pitt - Allied
Since Leonardo DiCaprio brought an end to all of the discussions about when he'll finally win a Best Actor gong last February thanks to his performance in The Revenant, we can now expect this chatter to move over to Brad Pitt. Pitt, who won as a producer, already has received three Oscar nominations for acting (Best Supporting Actor for 12 Monkeys, Best Actor for The Curious Case Of Benjamin Button and Moneyball), and his role in Allied suggests that he could be in line for yet another, too, as it possesses all the Oscar acting traits that voters desire. Not only is it set during World War II, but it's a love story about two assassins that fall in love, it is directed by the previous Oscar winner Robert Zemeckis, while its trailers also suggest that it's going to look absolutely beautiful, too.
Michael Keaton - The Founder
For the past two years, Michael Keaton has popped up in the consecutive Best Picture winners, Birdman and Spotlight, but each time he failed to take home a personal Best Actor gong for his own collection. Sure, it hurt his chances just a tad that he wasn't nominated last year for Spotlight, but he was deemed a shoe-in by many for Birdman only for Eddie Redmayne to sneak in and take it away from him. But Hollywood loves a trier and a redemption story, and if early buzz is anything to go by, we can expect another Best Actor nomination for Michael Keaton later this year thanks to his work in The Founder, which sees Keaton portraying Ray Kroc, the man who grew McDonald's into the multi-billion establishment that we all know and turn to when we're peckish and in a hurry. Slightly evil and driven by power and money, Kroc is capitalism personified, and might be just the role to finally land Keaton an Oscar.
Denzel Washington - Fences
Since winning the Best Actor gong for 2001's Training Day, Denzel Washington hasn't given too many other performances that were likely to earn him the same acclaim. Sure there was Flight and American Gangster, which he, as per usual, excelled in, but their plots and subject matter were never going to appeal to Academy voters. Fences' powerful premise teases that it will change all that. Set in 1957 Pittsburgh, Washington plays Troy Maxson, a former Negro league baseball player who now works as a trash collector and is struggling to pay for his family and deal with how his life has unfolded. It's a role that Washington knows very, very well, too, having performed it on Broadway back in 2010, which saw him claim that year's Tony Award. Denzel Washington is directing the cinematic adaptation of Fences, too, and if he's firing on all cylinders and the film is a critical success, then it's hard to look beyond him for Best Actor.
Ben Affleck - Live By The Night
The fact that Argo won Best Picture and Ben Affleck wasn't even nominated for Best Director or Best Actor suggests that his redemption tale isn't quite complete just yet. Especially as Batman V Superman: Dawn Of Justice might have made some people hate him all over again. But it's undeniable that since Hollywoodland, and because of his directing work on Argo, The Town, and Gone Baby Gone, Affleck has become one of the most intriguing leading men in Hollywood. Live By The Night's epic story of bootlegging during Prohibition, which sees the prodigal son of a Boston police captain go from rum-runner to gangster, sounds like it provides Ben Affleck with the substantial material necessary to finally draw the acclaim of Academy voters, while at the same time appealing to mainstream audiences.
Your Daily Blend of Entertainment News