Why Jurassic World Had To Use So Much CGI, According To The Director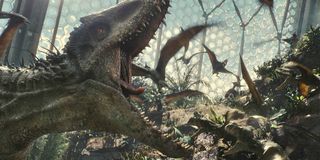 Jurassic World proved to be the surprise hit of the summer back in 2015, as it smashed expectations and went on to bring in $1.670 billion at the box office to become the fourth highest grossing film of all time. However, Colin Trevorrow, who directed Jurassic World, but will only produce its sequel, has already picked out an area that he wants to improve on with the follow-up, as he's now insisted that he wants the upcoming blockbuster to include less CGI and more animatronics.
Colin Trevorrow made this admission to Jurassic Outpost, while at the same time revealing that Jurassic World's use of animatronics was so excessive because of the size and movements of the Indominus Rex. To compensate for that, they've specifically included creatures in Jurassic World 2 that will be made with animatronics. Colin Trevorrow remarked:
During his wide-ranging chat, Colin Trevorrow admitted that Jurassic World's paltry budget of $150 million meant that they had to turn to CGI instead of animatronics. Of course, there were some die-hards that were a little disappointed with the lack of animatronics used in Jurassic World, especially considering that they'd been a key component of Jurassic Park's popularity and aesthetic. Still, even they have to admit that, despite being created by CGI, the Indominous Rex made for quite an imposing and daunting antagonist. I mean, just check out his wanton destruction.
Colin Trevorrow was clearly always aware that the importance of animatronics in Jurassic World. In fact, the director also admitted that he informed the animators on the blockbuster that he wanted the Indominous Rex's CGI to look as though it had been created using animatronics. This was done so that the look of the dinosaurs was true to how the legendary Stan Winston had previously designed them.
Unfortunately for fans of Jurassic World, Colin Trevorrow isn't returning to oversee its follow-up, as he is now busy off in a galaxy far, far away working on Star Wars: Episode IX. The task to bring Jurassic World 2 to life has been left with Juan Antonio Bayona. That will be no small feat considering the financial success of its predecessor, but we'll get to see what the Spanish filmmaker, who previously oversaw The Orphanage and The Impossible, can come up with when Jurassic World 2 is released on June 22, 2018.
Your Daily Blend of Entertainment News