Why The That Thing You Do! Extended Cut Is So Much Better Than The Original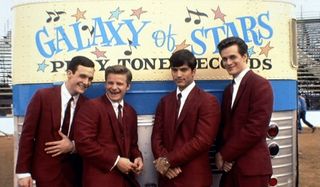 For 20 years, most people have been content with the version of That Thing You Do! that was released in theaters back in 1996, and there's nothing wrong with that. Tom Hanks's writing and directing debut is a bona fide classic in every sense of the word, and it's as fun and exciting today as it was the first time we dropped the proverbial needle on the record that is the film. However, did you know there's an extended cut with tons more footage reinstated that's been under your nose this entire time?
Come to think of it, I think that the extended cut of That Thing You Do! is the superior animal, though again I'll never knock the original cut as it's the one that brought me to the dance. My first exposure to the film was a $5 VHS from KMart that I treasured throughout high school and college, up until that second DVD came out. But once I'd seen the extended cut of Tom Hanks' original vision of pop stardom, I couldn't help but wonder where this film has been all these years.
You're probably still in the need of a little more selling, because why in the world would anyone extend a movie about 1960's pop from a little over an hour and a half into an almost two and a half hour epic? Actually, there's a couple really good reasons:
The Characters Are Better Developed
A huge portion of the cut footage from That Thing You Do! is a lot of deleted and extended moments with the film's characters, especially our lead protagonist, Guy Patterson (Tom Everett Scott). While the existing cut does a fine job of showing the friction Guy has with both his family and Tina (Charlize Theron), his girlfriend at the beginning of the film, the extended cut gives both plotlines more room to breathe. Not only do we see him getting hassled more by his family at the beginning of his career as a drummer, we also see Tina becoming more and more disinterested in Guy's life in general, and her growing relationship with her dentist. So instead of just giving Tina a quick heel turn, we see her gradually falling for the man who wants to do nothing but crown her #15 molar, which works better than a random betrayal.
The Humor Is More Adult
In its theatrical incarnation, That Thing You Do! is as harmless as the 60's pop music it crafted a full soundtrack's worth of material mimicking. While the extended cut doesn't go full R-rated with its humor, there is more of a mature bent on the material, and in a couple instances, the love lives of our characters are given more detail. For instance, a plot line involving T. B. Player and his infatuation with The Chantrellines shows that he eventually sleeps with one of the band members, thus losing his virginity. So when T.B. talks about how that was the act that popped his cherry, during the band's KJZZ radio interview, he's not talking about their musical inspiration, like he was in the theatrical cut.
Certain Scenes Make More Sense
Much like the cherry popping gag previously mentioned, there are other scenes in That Thing You Do's extended cut that make much more sense after being extended. A perfect example lies in Kevin Pollak's cameo as Victor "Boss Vic Koss" Kozlovich, which is a quick in-and-out affair in the theatrical cut. If you're looking for redemption for the Boss and his problem with being an asshole to a young band out of Erie, PA, you're not going to find it here. Rather, he's an even bigger jerk in the extended cut, as we see him kick the band out of his dressing room after they've been mistakenly sent there. With the extended footage added back into the film, moments like these become richer in detail, and only help further chronicle the band's meteoric rise that much better.
It's A More Complete Story
Put everything we've told you together, and what do you get? A film that's not just a story of a young band's rise and fall to one hit wonder-dom, but also a time capsule of living as a teen in the 60's. If That Thing You Do! was a really good hamburger and fries in its theatrical cut, then the extended cut is a prime rib with whipped potatoes, and a side of your favorite vegetables. I've said it before, and I'll say it again: the original cut of Tom Hanks' film is not bad in any stretch of the imagination. In fact, it's a really good theatrical edit that doesn't sacrifice the film's story, and leaves minimal holes in its plot at best.
But once you've seen the extended edition, and seen all of the moments you recognize enhanced by the new material reinstated back into the film, you'll know the difference matters. You'll always have the theatrical cut to go back to, as both cuts are packaged on the same Blu-ray and DVD set, but any time you experience _That Thing You Do! _in the future, you'll have the option to take the path you've always known or the road less traveled. Do Robert Frost a solid, and check out the extended path, as you certainly won't regret it.
In the meantime, we'll wish The Wonders and That Thing You Do! a very happy 20th anniversary, as we look forward to at least another 20 years of an underrated classic doing that thing it's always done. If you want to get in on the fun, head over to Amazon and order yourself a copy of the film on Blu-ray or DVD (opens in new tab), both featuring the theatrical and extended cuts of the film.
Your Daily Blend of Entertainment News
Senior Movies Contributor
CinemaBlend's James Bond (expert). Also versed in Large Scale Aggressors, time travel, and Guillermo del Toro. He fights for The User.
Your Daily Blend of Entertainment News
Thank you for signing up to CinemaBlend. You will receive a verification email shortly.
There was a problem. Please refresh the page and try again.