Why The Latest Guardians Of The Galaxy 2 Rumor Is Likely False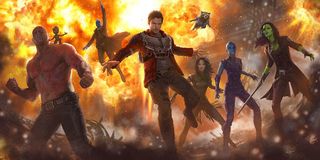 The Marvel Cinematic Universe doesn't take as many opportunities to delve into the cosmic side of things, which is why Guardians of the Galaxy Vol. 2 will be most welcome. Picking up a few months after the events of the first movie, Marvel's first 2017 blockbuster will reunite with the rowdy, yet much appreciated, band of heroes traveling across the galaxy to continue their explosive adventures. The sequel will be peppered with a lot of supporting characters, whether they're familiar, like Nebula and Yondu, or new, like Ego and Mantis. However, a new report just arrived that says the Elders of the Universe will build up the latter category, and we're looking at these new details with a lot of skepticism.
Following their reports about Thor: Ragnarok and Spider-Man: Homecoming, Schmoes Know is now saying that Guardians of the Galaxy Vol. 2's Elders of the Universe lineup will consist of Benecio del Toro's The Collector and Elizabeth Debicki's Ayesha, as well as two unnamed characters being played by Sylvester Stallone and Sharon Stone. The Elders will apparently be the "impetus" for Star-Lord to seek out his dad, Ego. The report also mentions that Jeff Goldblum's Grandmaster is an Elder in the MCU, albeit an "exiled one," but unless he has a surprise cameo in the Guardians sequel, fans will have to wait until Thor: Ragnarok later in 2017 to see him.
The Collector being an Elder matches up with the comic book continuity, so we're not surprised to hear that he might maintain this status in the MCU. It's the other three names that raise the eyebrows. Starting off, director James Gunn has already confirmed that Elizabeth Debicki's Ayesha is the powerful golden High Priestess who leads the group of genetically-perfect people called The Sovereign. There's been no mention of her also being an Elder. In Sylvester Stallone's case, his character was seen in the San Diego Comic-Con footage dressed in a Ravagers uniform. Unless this Elder is deep undercover posing as a member of the pirate gang, him as an Elder seems unlikely. As for Sharon Stone, she mentioned earlier this year that she has a role in an upcoming Marvel movie, and has so far only provided two clues about her character: she'll be a good guy and will have a special power tied to heat. That could technically still fit as an Elder, but considering Guardians of the Galaxy Vol. 2 wrapped principal photography months ago, it's surprising we didn't hear even a rumor about her potential inclusion.
Is there a remote possibility that these three might accompany The Collector as Elders of the Universe? Yes, although it would mean that there's a lot of deception at work. Ayesha and Sylvester Stallone's character would need to be hiding their true nature from everyone else, and considering how packed Guardians of the Galaxy Vol. 2's plot already sounds, spending a significant amount of time focused on these ancient beings seems like it would be too much. As it stands now, we're not convinced about this Elders news, but if more evidence comes along, we're willing to keep open minds.
Guardians of the Galaxy Vol. 2 hits theaters on May 5, 2017.
Your Daily Blend of Entertainment News
Connoisseur of Marvel, DC, Star Wars, John Wick, MonsterVerse and Doctor Who lore. He's aware he looks like Harry Potter and Clark Kent.