How Matt Damon Really Feels About The Great Wall Whitewashing Controversy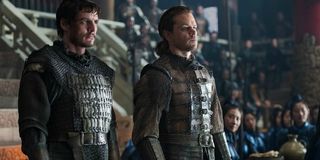 When the teaser trailer for The Great Wall was released back in August it was instantly accused of white-washing, as critics insisted that Matt Damon's leading role should have gone to a Chinese actor. Set in medieval China over a thousand years ago, it was alleged that Damon's casting was just carrying on the cinematic trope of a special white person saving the day instead of a person of color. But now Matt Damon himself has shot back against this whitewashing controversy, denying it and then insisting that it's still way too early to make a judgment on the film as it hasn't even been released yet.
Matt Damon made his impassioned defense of The Great Wall at a press conference for the film at New York Comic Con on Saturday that I was in attendance for, during which it was made clear that Damon isn't playing a character of Chinese descent. Damon admitted that he was devastated at the initial reaction to the teaser, while at the same time admitting he was surprised that people had been so quick to judge. When asked for his reaction to the furor Damon remarked:
Matt Damon and Pedro Pascal were quick to note that insist that The Great Wall is still "very, very specifically Chinese", insisting that it couldn't not be because it's being seen through director Zhang Yimou's lens. At the same time they also noted how it's a giant co-production, and that not only was the crew was entirely Chinese but that most of The Great Wall's cast is, too.
After launching his own defence of the teaser, Matt Damon decided not to leave the marketing team behind the heavily criticized trailer for The Great Wall in the lurch by themselves. Instead, he looked at things from their perspective and explained.
Matt Damon even admitted that he was a little haunted by the varied attacks on The Great Wall, which then forced him to return to the trailer on a number of occasions so that he could try and understand the criticisms being made. After a little soul searching he decided that the onslaught was still premature, but admitted that if they continue once The Great Wall is released he'll hold his hands up and learn from the mistakes. Damon explained:
The Great Wall sees Matt Damon's mysterious warrior travel over 1,000 miles to the titular location alongside his companion (Pedro Pascal). They make this excursion so that they can claim a weapon that will bring any army in the world to its knees. However, when they arrive, the wall is attacked by a legion of creatures. Damon looks to join the army, which is lead by Jing Tian, Lu Han, and Andy Lau, but in order to do so he must undergo a series of tests before he can help to defend the great wall.
The Great Wall will be released on February 17, 2017, and it marks the English-language director of the acclaimed director of Hero, Raise the Red Lantern, and House of Flying Daggers, Zhang Yimou.
Your Daily Blend of Entertainment News
Thank you for signing up to CinemaBlend. You will receive a verification email shortly.
There was a problem. Please refresh the page and try again.