This Rotten Week: Predicting The Accountant, Kevin Hart: What Now? And Max Steel Reviews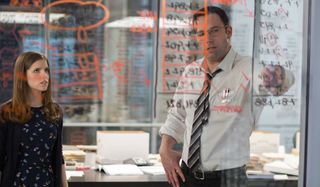 Big Ben is back in action as a mathlete/assassin in theaters this week, plus we've got a superhero and a bit of stand-up comedy. Coming this Friday we've got the The Accountant, Kevin Hart: What Now? and Max Steel. It's gonna be a Rotten Week!
Just remember, I'm not reviewing these movies, but rather predicting where they'll end up on the Tomatometer. Let's take a look at This Rotten Week has to offer.
I've got a bad feeling about The Accountant. Sure, on the surface you have Ben Affleck playing this weird mashup of Rain Man and Jason Bourne, which seems like it should be cool enough. The production level appears like they went for it budget-wise, and I suspect the studio has high hopes it'll cross-appeal between hardcore action folks and "good movie" lovers. But something just feels off. I don't know if it's Affleck not speaking at all during the trailer or just the confusing tone/nature of the proposed plot. Maybe I just don't get it.
Director Gavin O'Connor has helmed a couple of well-received sports movies in the past with both Miracle (80%) and Warrior (82%), but The Accountant looks like a whole new animal for the filmmaker - and it's hard to say exactly if he's standing on perfectly solid ground. There aren't any early reviews available yet to help determine what the ultimate outcome will be, but I can see it playing closer to his work in Pride and Glory (35%). I want it to be good, but I've got some concerns.
I would say it's not great for a stand-up-special-turned-feature-flick that the producers felt the need to add on a ton of glitz glamour instead of letting the comedy speak for itself. Sure, Kevin Hart is a massive (massive, massive) star and his comedy is loved by millions. But when the central conceit of a stand up special doesn't appear to be the comedy itself, the trailer for the film dedicating a lot of time to a fake spy narrative, then I cry a little bit of foul. It's possible that the feature version of Kevin Hart: What Now? will strike a better balance between the fiction and on-stage work, but I'm a bit put-off.
When it's not about the titular star's wild fantasies, Kevin Hart: What Now? details the events of Kevin Hart's famous show at Lincoln Field in Philadelphia that sold out 53,000 seats - something no comedian has ever done before. That alone is impressive. But now it's a feature film and in an effort to make it passable for theater audiences it looks like they loaded it up with bloat. I don't think critics respond well.
This trailer for Max Steel starts out fine enough, with a loner kid moving to the new town, and then diving further into the mystery surrounding his father and a secretive experiment. You can see some of the superhero hints coming along. And then bam, a flying robot with a super annoying voice comes into the picture, and you can officially consider my ticket unsold. What the hell? I mean this thing turns so juvenile so quickly it almost made my head spin. Yes, I know this based on a cartoon and is geared toward a younger audience. That would make sense if the rest of the backdrop, the main character, the over-arching story followed suit in the flick, but they don't.
There isn't much reason to expect Max Steel to be any semblance of good. The trailer looks weak and the director, Stewart Handler, doesn't really inject us with a whole ton of confidence either. To date, Handler has only one other major directing credit under his belt, and that was the 2009 horror remake Sorority Row (22%). Fans of the source material might get a kick out of Max Steel, but I suspect everyone else will give it the thumbs down.
I went 0-3 last week in what can only be considered a rough one for the Rotten Watch. The biggest miss was The Girl On The Train (Predicted: 74% Actual: 46%). Critics appear to agree Emily Blunt was about the only thing that saved the flick from being terribly mediocre. Instead it came in merely below average. This is surely a massive disappointment considering the success of the novel. I stand by the original prediction considering the source material, strong casting and director Tate Taylor's previous critical successes. But this one ends up looking bad on the ol' resume.
Meanwhile, Middle School: The Worst Years of My Life (Predicted: 34% Actual: 53%) was shaping up to be a real bad miss earlier in the week when the Tomatometer sat in the mid 70's. I couldn't believe it based on how stupid the trailer for the movie looked. The score did ultimately drop over the course of the week, but not far enough to bring it within what I consider "win" range for my predictions. I missed this by almost twenty points and definitely had the tenor of the reviews incorrect.
Finally, Birth of a Nation (Predicted: 90% Actual: 77%) was a near miss. I thought the reviews would tick up a bit from the head start I got last Sunday. The Sundance darling dipped only slightly, but it was enough to keep me out of range. I still think this movie will be around come awards season, but it could have probably used just a few more positive reviews to be a favorite on Oscar night.
Next time around we've got a big one with Jack Reacher: Never Go Back, Keeping Up with the Joneses, I'm Not Ashamed, Boo! A Madea Halloween and Ouija: Origin of Evil. It's gonna be a Rotten Week!
Your Daily Blend of Entertainment News
Doug began writing for CinemaBlend back when Terminator: The Sarah Connor Chronicles actually existed. Since then he's been writing This Rotten Week, predicting RottenTomatoes scores for movies you don't even remember for the better part of a decade. He can be found re-watching The Office for the infinity time.