What Sets John Wick Apart From Other Action Films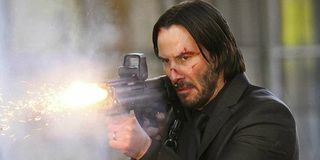 The first trailer for John Wick: Chapter 2 immediately reminded us that action scenes can feel a genuine punch to the gut if they're done right. Unfortunately, even though most of them have somewhere between $100 and $300 million to play with, most action sequences in mainstream, tent-pole films have underwhelmed in recent years. John Wick: Chapter 2's producer has promised that the follow-up will thankfully be a continuation of what made the original so unique and captivating, while at the same time having a sly dig at its peers.
Producer Basil Iwanyk, who fulfilled this role in the original, too, spoke specifically about the fighting style that was used in John Wick and will again, hopefully, flourish in the sequel during a featurette that aired at John Wick: Chapter 2's New York Comic Con panel last weekend. In it Basil Iwanyk remarked:
Common, who has starred in the action films Smokin' Aces, Terminator Salvation, as well as appearing briefly in Suicide Squad, reiterated Basil Iwanyk's point about John Wick later on in the panel, insisting that working on the sequel was much more strenuous than any other film of similar ilk that he's appeared in. Common explained:
Despite the fact that Chad Stahelski and David Leitch made their directorial debuts with John Wick, years of working as second unit directors and stunt coordinators on the likes of Blade, Fight Club, 300 and both The Matrix Reloaded and The Matrix Revolutions allowed them to not just hone their ability, but to decide what they would like to include in an action film. John Wick was the result, but while only Chad Stahelski is returning to direct the sequel, with David Leitch producing alongside Basil Iwanyk, Chapter 2's trailer proves that it looks just as impressive.
We'll get to see what all the fuss is about when John Wick: Chapter 2 is finally released on February 10, 2017. And if you're still not convinced about the John Wick franchise, then not only is there something mentally wrong with you, but the fact that it will include a Matrix reunion, too, as Laurence Fishburne has joined Keanu Reeves in the cast, should help to eradicate any lingering doubts.
Your Daily Blend of Entertainment News