The Cool Way Keanu Reeves Pulled Off A Matrix Reunion For John Wick 2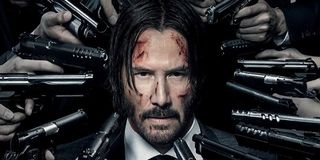 There are many reasons to be excited for John Wick: Chapter 2. The original is filled with slick, high-octane, moody, long, single-shot action scenes, which proved to be a huge gush of fresh air in comparison to its overly spliced down and tediously frenetic blockbuster rivals, and we can expect the follow-up to be just as bombastically entertaining. Of course, the fact that it will also feature the long coveted Matrix reunion, as Laurence Fishburne joins Keanu Reeves for the adventure, is just another reason to already be counting down the days until its release. But how did it come about? Well we have Keanu Reeves to thank.
During last weekend's panel to showcase John Wick: Chapter 2 in all of its glory, Laurence Fishburne's participation in the action thriller was obviously brought up. Director Chad Stahelski, who is overseeing the film by himself this time around after co-directing the original with David Leitch, who is just producing Chapter 2, revealed that the plan was always to add Laurence Fishburne to the fine array of character actors that are already in the universe. Stahelski remarked:
This then provoked Keanu Reeves to recall how Laurence Fishburne's innocuous comment about how much he loved the original John Wick then led to him being offered a part in the follow-up. Reeves remarked:
Clearly Laurence Fishburne was quite taken with Derek Kolstad's script for John Wick: Chapter 2, because after a few emails back and forth, and one meeting in New York with Chad Stahelski, he signed on the dotted line and gave us The Matrix reunion that we've all been pining for since The Matrix Revolutions proved to be so disappointing back in 2003.
We'll get to see Laurence Fishburne and Keanu Reeves finally sharing the screen again in John Wick: Chapter 2, which is set just 4 days after the chaotic events of the original, when it's released on February 10, 2017.
Your Daily Blend of Entertainment News
Thank you for signing up to CinemaBlend. You will receive a verification email shortly.
There was a problem. Please refresh the page and try again.