A Don Quixote Movie Is Finally Coming, Just Not The One We Were Expecting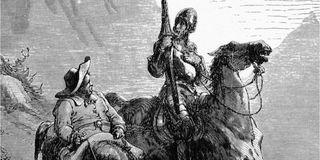 Considering how famous the tale of Don Quixote is, it's surprising it's never been adapted for the big screen (although there was a TV movie shown in 2000). For nearly 20 years, hardcore movie fans have been expecting Terry Gilliam to change this with The Man Who Killed Don Quixote, which would see a 21st century man being transported back in time to meet the protagonist. Alas, that project has remained in development hell, and now Disney has taken it upon itself to tackle a more traditional adaptation of the story.
The House of Mouse has recruited Billy Ray to pen aDon Quixote movie, which he will also produce with Gordon Gray. THR says that the movie's tone will resemble the "madcap and fantastical nature" of the Pirates of the Caribbean movies. Billy Ray's notable writing credits include Breach, The Hunger Games and Captain Phillips, the latter of which earned him an Academy Award for Best Adapted Screenplay nomination. Gray has been a longtime member of the Disney family, producing live action fare like Miracle, Tooth Fairy, Million Dollar Arm and McFarland, USA.
For those of you unfamiliar with Don Quixote (written by Miguel de Cervantes Saavedra), the story follows the eponymous protagonist whose sanity is bent after reading too many chivalric tales, now believing that they are actually real. He subsequently decides to become a knight, search for adventures like the ones he's read about and right the wrongs of the world. Don Quixote soon recruits a farmer named Sancho Panza to be his squire, but because his perception of reality is askew, this makes for amusing ways he tries to replicate the life of a noble protector. He sees windmills as giant dragons, peasant girls as damsels in distress, etc. The first half of the story came out in 1605 and the second half followed in 1615, although nowadays they're published as one volume.
Disney certainly doesn't have any shortage of blockbuster fare to provide audiences, be it Marvel, Star Wars, Pixar or the remakes of their classic animated movies. A Don Quixote movie is a weird project to add to the development slate, but if the studio is looking to replicate the same kind of success that the Pirates of the Caribbean series has had, this stands a good chance of accomplishing that. It may be a while until we learn more concrete details about the adaptation, including whether it will be set in the seventeenth century or a different time, but considering all of Don Quixote's crazy antics in the original story, we'll certainly be guaranteed a hectic and likely humorous re-telling.
We'll keep you apprised of how this Don Quixote movie is progressing, but for now, let us know what you think of Disney taking a stab at this tale in the comments below.
Connoisseur of Marvel, DC, Star Wars, John Wick, MonsterVerse and Doctor Who lore. He's aware he looks like Harry Potter and Clark Kent.
Your Daily Blend of Entertainment News
Thank you for signing up to CinemaBlend. You will receive a verification email shortly.
There was a problem. Please refresh the page and try again.