John Wick 2: What Is The Marker, And Why Is It Important To The Sequel?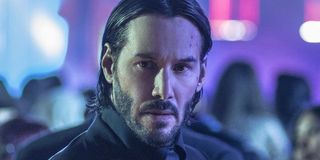 It was a little bit of a surprise when a sequel to John Wick was announced. Sure, it grossed $86 million from just a $20 million budget, rejuvenated Keanu Reeves' career, and was a breath of fresh air in comparison to other action films meant that it warranted a follow-up. But by the end of John Wick everyone that had wronged the titular character was dead, which meant that there wasn't much room for a follow-up. Writer Derek Kolstad has now admitted that John Wick: Chapter 2 will expand the universe and its background so that Baba Yaga can get back down to killing.
During the panel for John Wick: Chapter 2 at last weekend's New York Comic Con, Derek Kolstad was quizzed about what the action thriller will actually consist of, considering that John Wick's work was clearly done at the end of the film. This provoked Derek Kolstad to explain:
In the original it was revealed that Viggo Tarasov (Michael Nygvist) had given John Wick, who was his best assassin, the "impossible task" of killing all of his competitors in one night. Because John succeeded, he allowed to retire- but the Tarasov crime syndicate was established, too. In John Wick, the crime syndicate was then destroyed by the revengeful assassin after Viggo's son Iosef had killed Wick's pup.
The Marker is likely an agreement between The Continental and John Wick that states once he left the profession he then wasn't allowed to return. Of course, because Iosef Tarasov (Alfie Allen) killed John Wick's dog, he was left with no other option than to come out of retirement. But this is set to have violent repercussions for John Wick, and anyone that comes up against him in Chapter 2. These were teased in John Wick: Chapter 2's trailer, which debuted last weekend and you can appreciate below.
Chad Stahelski also looked to clarify shortly after Derek Kolstad had made his above comments that John Wick: Chapter 2 is set just 4 days after the original. This seems a little bit excessive. Surely the man deserves a holiday after what he went through? We'll get to see if he still has the stamina to match his antics in the original when John Wick: Chapter 2 is released on February 10, 2017.
Your Daily Blend of Entertainment News
Thank you for signing up to CinemaBlend. You will receive a verification email shortly.
There was a problem. Please refresh the page and try again.