Watch Gal Gadot And Isla Fisher Prepare To Kiss In Stunning Keeping Up With The Joneses Clip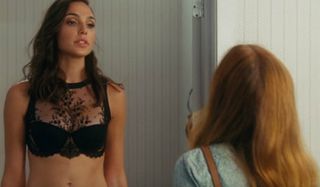 It's hard not to be enamored with Gal Gadot. Not only is she a statuesque beauty with an undeniable big-screen presence that's perfectly suited for the action genre, but she also just so happens to be Wonder Woman, too. So it's no surprise that Isla Fisher couldn't keep her hands off Gadot when they were filming Keeping Up With The Joneses, something that clearly extended to her character, too, as the below clip from the upcoming comedy suggests that the pair get very, very close throughout the course of the film.
Is this Karen Gaffney (Isla Fisher)'s way of revealing that her life with her husband Jeff Gaffney (Zach Galifianakis) has been a complete lie? Or is this all part of a master plan to try and bring down an evil ne'er-do-well that has scuppered the quartet? You'll jut have to wait until Friday to find out when Keeping Up With The Joneses is finally released.
This isn't the first Keeping Up With The Joneses clip to show Karen and Natalie Jones (Gal Gadot) getting rather close to each other. In fact, a couple of months back, footage of the duo trying on lingerie together, which Karen teases in the above clip, was also released. You can have a gander at that scene below.
While these clips are all well and good, they don't really give you an insight into the tone, action, and comedy that Keeping Up With The Joneses will feature. Just to get up completely up to date, Keeping Up With The Joneses revolves around the Gaffneys, a suburban couple, that become embroiled in international espionage after their new neighbors the Joneses turn out to be government spies. And you can check out a full length trailer for the comedy right down there.
Keeping Up With The Joneses features probably the most likeable leading quartet of 2016. Everyone loves Jon Hamm, as not only is he one handsome dish but he's also preposterously funny for a man that shouldn't have such a good personality, while Zach Galifianakis might not be quite as attractive as his male counterpart but he continues to push the envelope in TV with Baskets and as one of Hollywood's leading comedians with his unique, but still sweet brand of humor.
Also, Isla Fisher always lights up the screen and steals scenes with her feisty everywoman persona, while she's willing to make herself the butt of the joke and isn't afraid to dabble in physical comedy. And it will interesting to see if Gal Gadot can translate her leading lady prowess to the comedy genre. But considering that she had the biggest laugh in the trailer for Justice League, she should do just fine.
You'll get to find out how they work as a foursome from this Friday when Keeping Up With The Joneses is released into cinemas.
Your Daily Blend of Entertainment News
Thank you for signing up to CinemaBlend. You will receive a verification email shortly.
There was a problem. Please refresh the page and try again.