Why Jon Hamm 'Infuriated' Zach Galifianakis Shooting Keeping Up With The Joneses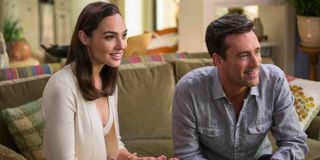 It turns out that Zach Galifianakis and Jon Hamm are old friends. The Hangover actor admitted as much to me and a select group of film journalists during our set-visit to Keeping Up With The Joneses last April. This means that Galifianakis knows how infuriatingly perfect Jon Hamm is. Want funny? Hamm is funnier than most comedians. Want charming? All you need to know is he was Don Draper. Want handsome? Just look at him. Which is why Galifianakis has now revealed that he finds Jon Hamm just a little bit annoying.
While talking to The Hangover actor during our trip to Atlanta, Georgia, Zach Galifianakis took a trip down memory lane with us, where he insisted that despite possessing the looks of a leading man, Jon Hamm is very much a "comedy guy." Galifianakis recalled:
Zach Galifianakis' adulation for Jon Hamm should come to the fore in Keeping Up With The Joneses. The film sees Jon Hamm and Gal Gadot playing Tim and Diana Jones, a married couple that moves into a quiet suburban neighborhood, which is where Zach Galifianakis and Isla Fisher's Jeff and Karen Gaffney call home.
The Gaffneys soon become convinced that there is more to the Joneses than meets the eye. This proves to be true, because they are indeed government spies, and soon both couples become embroiled in an international espionage plot.
After talking to Zach Galifianakis, we then had the chance to speak to Jon Hamm who also chatted about how long he has been pals with the comedian. Hamm admitted that he used to see Galifianakis perform on comedy nights down at Los Angeles' club Largo when he originally moved to the city.
Which basically means that Keeping Up With The Joneses has been over 20 years in the making. We'll be able to see if the combination of Zach Galifianakis and Jon Hamm is worthy of such a build up and works wonders when Keeping Up With The Joneses is finally released on October 21.
Your Daily Blend of Entertainment News