Keeping Up With The Joneses Trailer Is Sexy And Hilarious, Watch It Now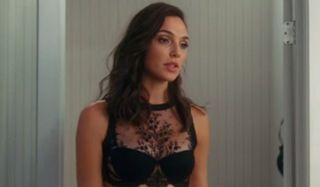 Jon Hamm has long proven that he has sensational comedic chops, thanks to his turns in 30 Rock, Bridesmaids and Unbreakable Kimmy Schmidt. But, barring his vocal role in Minions, the Mad Men star is yet to star in an all-out comedy. That's set to change with Keeping Up With The Joneses, in which he has been paired with the stellar talents of arguably the genre's most formidable leading man, Zach Galifianakis. Add in both Isla Fisher and Wonder Woman herself Gal Gadot, and Keeping Up With The Joneses becomes a tantalizing prospect, something that its trailer below instantly proves.
Obviously any film that features Gal Gadot walking around in her underwear is going to entice a healthy audience. But, aside from the Israeli actress showing off her assets, Keeping Up With The Joneses' trailer delivers on pretty much every front that it aims for. Not only are there several laugh out loud moments in the trailer alone - especially Isla Fisher's admission that she and Zach Galifianakis' Jeff, "Do it really fast in case the kids come running into our room," as well as Galifianakis trying to run away from Fisher after being caught by the gun-wielding Joneses - but even the action looks explosive and impressive, too.
It also helps that couples appear to have been perfectly cast. Both Zach Galifianakis and Isla Fisher have the relatable, sweet but eccentric oddball routine down to a tee, and together they should play off one another in a hilarious manner. Meanwhile, surely there isn't a better looking and more charismatic pairing in Hollywood than Jon Hamm and Gal Gadot, who take the roles of Tim Jones and Diana -- fingers crossed this is purely a Wonder Woman reference -- Jones.
The trailer does a wonderful job of proving just how alluring, intimidating, and hypnotic Jon Hamm and Gal Gadot would be as a couple. Especially if it turned out that they were undercover spies, too. Because it's their arrival into the sweet, pleasant, but kind of boring suburban life of Zach Galifianakis and Isla Fisher's Jeff and Karen Gaffney that kick starts the plot for Keeping Up With The Joneses. After Karen becomes more and more intrigued by their seemingly perfect life she begins to spy on them and investigate their antics, which suddenly leads to them becoming embroiled in an international espionage lot.
Originally touted for a release at the end of March, 20th Century Fox rather wisely decided to push Keeping Up With The Joneses back to October 21, so that it wasn't overwhelmed by the splurge of summer blockbuster releases. And since it genuinely looks high-octane and hilarious, giving it some room to find its audience looks like it was a very good call.
Your Daily Blend of Entertainment News
Thank you for signing up to CinemaBlend. You will receive a verification email shortly.
There was a problem. Please refresh the page and try again.