One Of Jurassic World's Best Characters Isn't Returning For The Sequel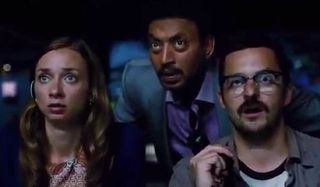 Everyone in the world has a crush on Jake Johnson. He's somehow managed to blend a down-to-earth hipster aesthetic with an everyman ease that means you're both envious and reassured by his presence at the same time. Johnson also just so happens to steal and make every scene he's apart of funnier and more watchable. Which is why the news that he won't be reprising his role as Lowery in Jurassic World 2 is so hard to take. Jake Johnson took to Twitter to break this depressing news himself, writing:
Of course none of us went to see Jurassic World just for Jake Johnson. Well, maybe some of you did -- and if that's the case then you're a bona-fide Johnsonaholic. But nevertheless he provided a levity and humor to proceedings that was a welcome relief from the pesky dinosaurs running riot that took up most of Jurassic World's running time.
Jake Johnson's revelation also means that we will forever be left on tenterhooks over the will they/won't they romance between Lowery Cruthers and Vivian Krill, who was played by Lauren Lapkus. After working alongside Vivian for what we can assume was quite a while, Lowery decided that the perfect time to tell her that he had feelings for her was when the entire park was in disarray. But as he leaned in for a kiss Vivian gently revealed that she had a boyfriend, leaving Lowery aching with unrequited love.
With that in mind, it's no wonder that Lowery Cruthers isn't returning for Jurassic World 2. Because not only was he publicly humiliated by her rejection, but his entire place of work was destroyed, too.
The revelation that Jake Johnson won't be involved in Jurassic World 2 suggests that the sequel is indeed going to be much darker and scarier than its predecessor, which new director J.A. Bayona promised movie fans just a couple of weeks ago. Now it appears that the tone leaves no room at all for the wise-cracking Johnson.
Jake Johnson was brought onto Jurassic World by its co-writer and director Colin Trevorrow, who previously worked with the actor on Safety Not Guaranteed. Since Colin Trevorrow is only returning to Jurassic World 2 as a writer, it seems like his replacement J.A. Bayona has found Jake Johnson surplus to requirements.
Those of you wanting to get a regular dose of Jake Johnson don't need to look too far, though, because he can be seen as Nick Miller in New Girl, while he's also got a leading role in Win It All, which he co-wrote alongside director Joe Swanberg. Plus he has a bit part opposite Tom Cruise, Russell Crowe, Sofia Boutella, and Annabelle Wallis in The Mummy.
Your Daily Blend of Entertainment News