What The Bride Of Frankenstein Reboot Will Be About, According To The Writer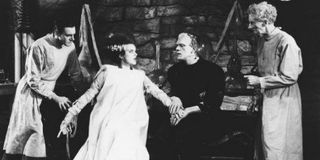 One of the most intriguing movie universes currently being molded is Universal's Monsters franchise. The Tom Cruise and Russell Crowe-led The Mummy will kick-start the series next year, which will then be followed by Van Helsing, The Wolfman and The Bride Of Frankenstein. David Koepp has been placed in control of bringing The Bride Of Frankenstein to the big-screen for the first time in over 80 years, and he's revealed that at its heart, his version is a tale of female liberation.
David Koepp made this revelation while talking to Collider, as he conducted his promotional duties for Inferno, which he also happened to write. Koepp jumped at the chance to write The Bride Of Frankenstein, which, from the sound of things, he has had a truly joyous time scribing it, too. Koepp explained:
David Koepp didn't stop there, though. Because he want on to discuss why he found it so liberating writing the script for The Bride Of Frankenstein, confessing that what he's enjoying the most about working on the project is the titular character herself. Koepp explained:
But don't hold your breath forThe Bride Of Frankenstein, because not only are they still working out the kinks of the script, but they're trying to figure out how it will exactly fit into the Universal Monster universe. David Koepp admitted that he's only done a draft of the script, and doesn't have a clue when cameras will actually start rolling on it.
However, he did insist that the powers that be over at Universal seemed quite taken with what he'd come up. Now they just want to see how The Mummy fares at the box office and how audiences react when it's released next summer before they proceed. But the studio is certainly throwing everything that they've got at the Monsters Universe, as it features an A-list cast of actors, while they hope that it will develop and evolve into a series of films that rivals the Marvel Cinematic Universe and DC Extended Universe.
The Mummy stars both Tom Cruise and Russell Crowe, with the latter playing Dr Jekyll. It has also already been announced that Johnny Depp will portray The Invisible Man, Scarlett Johansson has been linked with lead role in the Creature From The Black Lagoon film, while in July 2016, it was speculated that Javier Bardem was in talks to play Frankenstein's monster.
Universal will be crossing their fingers and toes that The Mummy, which has been written by Jon Spaihts (Passengers) and is directed by Alex Kurtzman, gets the franchise off to a perfect start when it's released on June 9, 2017.
Your Daily Blend of Entertainment News
Thank you for signing up to CinemaBlend. You will receive a verification email shortly.
There was a problem. Please refresh the page and try again.