How Feelings Toward Ghostbusters Have Changed, According To Paul Feig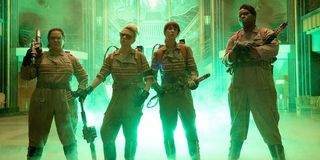 Paul Feig's Ghostbusters was fine. It wasn't an instant, timeless classic, but it also wasn't a bad comedy. However, if you even looked at social media prior to the film's release, or during its theatrical run, you would have thought that it was the worst piece of cinema ever committed to film. Opinions came hard and fast towards the female-fronted Ghostbusters reboot, but now things seem to have cooled off and taken a far more positive note. Paul Feig explained:
Paul Feig recently spoke to The Daily Beast and admitted that things have generally leveled off in terms of backlash towards the recent Ghostbusters reboot. Now that the film has officially been released on DVD and streaming services, Feig has started to receive messages from young women who appreciate his take on the material, as well as the increased representation for women in comedy.
We really cannot even begin to understate the initial backlash that accompanied the release of Ghostbusters. As soon as the film was announced, the Internet practically exploded with rage towards the update of the 1984 classic. In the interest of fairness, some of these complaints were simply from fans that did not want to see their favorite comedy tampered with in any way. However, plenty of other complaints were chock full of sexist language that Paul Feig and the cast had to consistently fight against throughout the film's production and release.
The director of the recent reboot also went on to say that women have sent him numerous pictures of themselves dressed up as the characters from the recent Ghostbusters update for Halloween. The experience has been empowering, as many young girls have really flocked to the new Ghostbusters mythos. Check out some examples below:
This Halloween clearly featured a ton of female Ghostbusters, and conventions like San Diego Comic-Con have become great places to see young women using their creativity to craft awesome costumes as well. Some women aren't just going as Ghostbusters; they are also going as the Ghostbusters symbol.
Then, of course, people seem genuinely inspired by the movie for the simple fact that it's actually a funny film. Not just because it's a different take on Ghostbusters, and not just because it provides increased representation for women on the silver screen. The movie stands on its own merit because it features legitimately strong jokes. Need an example of that? Look not further than Jillian Holtzmann's hilarious description of Pringles as "salty parabolas."
Now that the summer blockbuster season has come to a close, it's much easier to look back in hindsight on the effects of Paul Feig's Ghostbusters. The film did not actually ruin anyone's childhood, but it very clearly inspired an entire generation of young women, and that's not a bad thing. Ghostbusters is currently available on Digital HD, Blu-ray, and DVD.
Your Daily Blend of Entertainment News
Originally from Connecticut, Conner grew up in San Diego and graduated from Chapman University in 2014. He now lives in Los Angeles working in and around the entertainment industry and can mostly be found binging horror movies and chugging coffee.