That Doctor Strange Civil War Reference Isn't What You Think It Is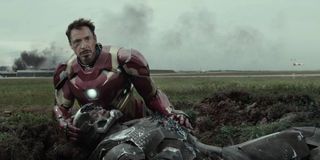 Scott Derrickson's Doctor Strange features a handful of references to the larger Marvel Cinematic Universe, but there are some who believe that there is a direct reference to the events of Captain America: Civil War. Specifically, there is a scene where Benedict Cumberbatch's character receives word about a soldier injured in some experimental armor, and some have taken this to be an Easter Egg referencing the paralysis of Don Cheadle's James 'Rhodey' Rhodes. While there's no arguing that this would be cool, we're here to burst a bubble and explain why it's not true.
First, let's take care of a bit of recap. In the scene in question, Dr. Stephen Strange is speeding along in his sports car, making his way to a speaking engagement. He is called by his surgical assistant, and given the rundown on three potential cases in which he may be interested. The first is described as a 35-year-old marine colonel who has "crushed his lower spine in some kind of experimental armor." At first blush, this certainly sounds like it could be a reference to the superhero known as War Machine, who had a devastating accident in Captain America: Civil War... but when you really think about it, the details just don't line up.
The first bit that proves that Dr. Strange wasn't being called about James Rhodes is the age. While Don Cheadle does look good for his age, he's definitely not 35 -- and in reality actually turns 52 later this month. The Marvel Cinematic Universe may smudge this number a bit, and it's true we don't know War Machine's birth date, but it's pretty hard to believe that Rhodes is nearly 20 years younger than the actor who is playing him.
Next up is the matter of his service in the United States Armed Forces. While it is entirely true that James Rhodes has achieved the rank of Colonel, it's important to note that he didn't do it as a marine. Instead, in the Marvel Cinematic Universe he is very notably a member of the Air Force. You could make the argument that Dr. Strange's assistant just screwed up the details, but that wouldn't serve the Easter Egg at all, so it would be pretty pointless.
The third area up for examination is the "experimental armor" that seemingly caused the spinal injury. This is surely the most important element that makes people think that Dr. Strange is turning down surgery on War Machine, but it's evidence of a narrow view of the Marvel Cinematic Universe to this point. It was all the way back in 2010 that we learned countries the world over were trying to develop their own versions of Iron Man armor, and this surgery that Strange turns down could be on any one of the many soldiers who have been part of copycat experimentation over the years. Hell, if it weren't for the fact that that the movie opens in 2016, you could make an equally valid argument that the 35-year-old marine colonel is actually the guy who gets twisted at the waist in the Justin Hammer video that Tony Stark shows during the congressional hearing in Iron Man 2.
We also can't ignore that the entire premise of this would-be Captain America: Civil War reference is broken. By the point this scene happens in Doctor Strange, it's been firmly established that the titular surgeon is an egotistical jerk who only works on high-profile cases... and what's more high-profile than restoring an Avengers' ability to walk? If Dr. Strange's assistant were pitching him the chance to work on James Rhodes, he would refer to him by name, not by age and military rank.
To put the final nail in the coffin of this Doctor Strange/Captain America: Civil War theory, we have a quote from Marvel Studios President Kevin Feige -- a.k.a. the master of the Marvel Cinematic Universe. Back in October, I was part of a roundtable interview with Feige following Doctor Strange's IMAX preview event (where the scene with Strange's accident was shown), and the executive/producer was asked how much Wikipedia research we should be doing into the three cases that Strange is pitched. Laughing, Feige replied,
Hopefully this bit of bubble-bursting doesn't damper your spirts or appreciation of Doctor Strange - but if it does, at least you can take pleasure in the fact that the movie does have plenty of larger Marvel Cinematic Universe references and comic book callbacks. We'll be talking about a bunch of them in the coming days, so be sure to stay tuned here on Cinema Blend!
Your Daily Blend of Entertainment News
Assistant Managing Editor
NJ native who calls LA home and lives in a Dreamatorium. A decade-plus CinemaBlend veteran who is endlessly enthusiastic about the career he's dreamt of since seventh grade.