Hollywood Heading Back To Middle Earth For A J.R.R. Tolkien Biopic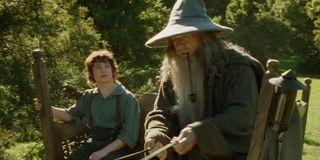 You might have thought that since Lord Of The Rings and The Hobbit have both been turned into rather successful trilogies, that would probably be the end when it came to the work of J.R.R. Tolkien on the big-screen. But Hollywood doesn't work like that. Rather than turning to one of his other stories or books this time around, though, work has now begun on a J.R.R. Tolkien biopic, which will get the unsurprising title of Middle Earth.
According to The Hollywood Reporter, Middle Earth will revolve around the chaotic and bloody events that inspired J.R.R. Tolkien to pick up a pen and write both The Hobbit and The Lord of The Rings trilogy. Angus Fletcher has written the script, and he's put quite a lot of time and effort into it, too, as it was constructed with the help of six years of interviews and archival research. According to IMDB, Angus Fletcher's only previous other work came as the writer and director of 2008's S.E.R.E., which was a war thriller that revolved around four American soldiers trying to survive in a Saudi Arabian prison.
Middle Earth has already acquired a director, too, as British filmmaker James Strong has signed on to oversee the biopic. While this will mark James Strong's debut as a feature film director, he has been shining on the small-screen for quite a while. Not only has he overseen over half a dozen episodes of Doctor Who, but he has also directed numerous episodes of both Broadchurch and Downtown Abbey, the documentary Elton John: Me, Myself & I, and the TV films United while in the UK. Most recently he has been working on US TV, too, directing the pilot for Drew and episodes of 11.22.63.
Middle Earth also has a direct connection to The Lord Of The Rings trilogy, as Bob Shaye and Michael Lynne are producing the film, which they'll do through their Unique Features banner. Bob Shaye and Michel Lynne were the ones who decided to give Peter Jackson the greenlight to work on The Lord Of The Rings films when they were at New Line Cinema. They will also be producing Middle Earth alongside Rachael Horovitz, and the trio. Protagonist Pictures, who are handling its worldwide sales, will launch the biopic to buyers at the Berlin Film Festival.
While it's hard not to be a little skeptical about whether J.R.R. Tolkien's life warrants a biopic, the events that led to him writing both the Hobbit and Lord Of The Rings provide a little hope that it will ultimately be worthwhile. That's because it will revolve around J.R.R. Tolkien's time as a soldier in the first World War, an experience that ultimately went on to inspire the fledgling writer to scribe both The Hobbit and The Lord Of The Rings. Tolkien served in the British Army as a Lieutenant in the Lancashire Fusiliers between 1915 and 1920, and was even involved in the Battle Of The Somme, which lasted from July 1 to November 18, 1916, and resulted in over a million men being killed or wounded.
We'll learn if there have been any buyers for Middle Earth when the Berlin Film Festival takes place in February 2017.
Your Daily Blend of Entertainment News