The Other Marvel Villain Who Almost Appeared In Ant-Man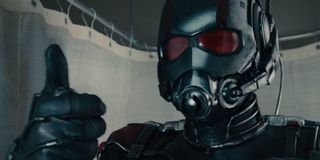 It's become a relatively accepted fact that the Marvel Cinematic Universe has a hard time with villains. However, there are a few who definitely stand out among the rest. One such bad guy that fans have come to know and love over the years is Toby Jones' Arnim Zola. The character debuted during the events of Captain America: The First Avenger, and was seemingly killed by a missile during Captain America: The Winter Soldier. However, now it seems that he was actually supposed to appear during the events of 2015's Ant-Man.
Based upon newly released Ant-Man concept art (via Comicbook.com) it appears that Swiss scientist Arnim Zola was originally slated to appear in Scott Lang's solo movie. Several variations of the concept are presented, but pretty much all of them involve the villain's face projected on a screen (similar to how he appeared in Captain America: The Winter Soldier) on the mid section of a humanoid robot. Some of the robots have very mechanical looks, while others have the fleeting resemblance of an actual human -- think Nick Valentine from Fallout 4. Regardless of the differences, all of them are terrifying.
This evolution of the character actually would've made quite a bit of sense to those who know the source material. In Marvel Comics, Arnim Zola's computer form is often depicted as the face of the former Nazi scientist embedded into the torso of a giant, imposing mechanical body. With that in mind, the release of this concept art seems like possible confirmation that Marvel has at least toyed with the idea of keeping the villain around in a more comic book accurate fashion.
Of course, this revelation raises serious questions regarding when Arnim Zola would've appeared during the events of Ant-Man. The mechanical body shown in this concept art is obviously far more technically advanced than the computer that housed the villain in The Winter Soldier. However, given the fact that we generally assumed that Zola's computer form died in an explosion during Captain America's sophomore outing, there's also a case to be made that this version of the character would've popped up in a deleted flashback scene. Then again, maybe he uploaded himself out of the S.H.I.E.L.D bunker before the blast -- thus allowing him to live on elsewhere. If that's the case, then it remains entirely possible that Zola may still show up somewhere else very, very soon.
What do you think of this newly released concept art? Would you have wanted to see Arnim Zola make an appearance in Ant-Man, or do you think the movie was better off without his presence? Let us know what you think in the comments section below!
We will bring you any and all relevant details related to the future of the Marvel Cinematic Universe as more information becomes available to us. Make sure to check out Doctor Strange, which is currently in theaters!
Your Daily Blend of Entertainment News
Originally from Connecticut, Conner grew up in San Diego and graduated from Chapman University in 2014. He now lives in Los Angeles working in and around the entertainment industry and can mostly be found binging horror movies and chugging coffee.