Why Johnny Depp Was The Right Choice To Play Grindelwald, According To David Heyman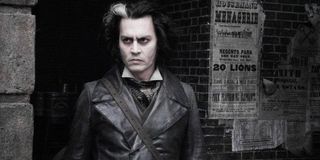 By this point, every die-hard Harry Potter fan knows that Johnny Depp has joined the Fantastic Beasts And Where To Find Them universe to play Gellert Grindelwald. While speaking to David Heyman at the Fantastic Beasts And Where To Find Them press junket in New York last week, I quizzed the producer on why Johnny Depp was the right choice to play Grindelwald, and he revealed that he was chosen because he possesses a rare concoction of abilities to pull off the role.
Johnny Depp has quite the task on his hand to not just make Grindelwald his own, but to also make him stand out in a universe that's already packed to the brim with iconic characters. David Heyman outlined to me just how "significant" Grindelwald is in the story, adding that he is a "major character" that possesses a "tremendous power in this world."
As well as his wizarding abilities, Heyman explained that Grindelwald also possesses the power of seduction, too, and he is able to persuade a large amount of people to follow him. Finding an actor who can pull that off was always going to be difficult, and David Heyman admitted that after looking around, there was only a short list of people who were capable, and Johnny Depp was top of it.
When I sat down to talk to director David Yates, who has already confirmed that he'll return for Fantastic Beasts And Where To Find Them 2 and could eventually oversee all five installments from the franchise, he echoed David Heyman's comments about Johnny Depp, admitting that he was the only actor available with the pedigree to do the character justice. Yates explained:
We'll finally get to see what Johnny Depp can truly do with the character of Gellert Grindelwald when Fantastic Beasts And Where To Find Them 2 tentatively is released on November 16, 2018. While Fantastic Beasts And Where To Find Them is now in cinemas across the US.
Your Daily Blend of Entertainment News
Thank you for signing up to CinemaBlend. You will receive a verification email shortly.
There was a problem. Please refresh the page and try again.