The Major Role Johnny Depp May Be Playing In The Fantastic Beasts Movies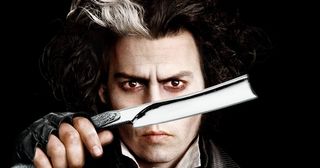 Following news that Johnny Depp has joined the cast of Fantastic Beasts and Where To Find Them 2 comes reports of who the actor might be playing in the Harry Potter-adjacent sequel. There were two roles Harry Potter fans surely speculated might be possibilities for the actor, and rumor has it, Depp is lined up for one of them.
Hypable provided the update, citing a source involved with the film who says that Johnny Depp will play none other than dark wizard Gellert Grindelwald.
If that's true, that's massive. And a bit surprising, given that Johnny Depp is an American actor, and Gellert Grindelwald is not, to our knowledge, an American wizard. Nevertheless, at 50-something, Depp does fall close enough to the age bracket of Gellert Grindelwald, who would be somewhere in his 40s around the time of Newt Scamander's trip to New York (in the 1920s.)
For reference, if your Harry Potter memory is rusty, Gellert Grindelwald is one of the more commonly referenced dark wizards to precede Lord Voldemort. Once a close friend to Albus Dumbledore, Grindelwald's aspirations to collect the Deathly Hallows, and for wizards to be able to live out in the open turned him down a dark path, one Dumbledore chose not to follow, following the accidental death of his sister Ariana. Grindelwald goes on to become Dumbledore's greatest foe, and the two would eventually throw down in an epic wizard battle sometime in the 1940s. Fantastic Beasts and Where To Find Them takes place in the 1920s, so this would be the time period leading up to that major event in wizarding history, when Grindelwald was on the rise.
Yesterday, when we learned that Johnny Depp was cast in the Fantastic Beasts sequel, word was that he has a brief cameo in the upcoming Fantastic Beasts and Where To Find Them. From what Hypable says, we don't see Grindelwald's face in the first movie, just the back of his head, at some point near the start of the film. The scene they mention lines up with what our own Eric Eisenberg reported from the Fantastic Beasts IMAX event, so that may very well be the reported Depp cameo, and that could just as likely be our first glimpse of Gellert Grindelwald.
One of the things David Yates spoke about during the Fantastic Beasts IMAX event, was that both Dumbledore and Grindelwald would feature in the first movie...
So, while I was almost automatically inclined to dismiss the idea that an American actor (and one as Hollywood-famous as Johnny Depp) might play one of these two iconic roles, learning that Johnny Depp would cameo in the first movie did cause me to think twice about the situation. Knowing that Grindelwald might appear briefly in the first film, I'm inclined to believe that Hypable's report is true.
Originally, I thought it would be more likely that J.K. Rowling would want U.K. -- or European, at the very least -- actors to play the non-American roles in the Fantastic Beasts films, much in the way was frequently the case in the Harry Potter movies. However, in the Harry Potter films, that applied mainly to British actors and characters, and to our knowledge, Gellert Grindelwald wasn't actually British. I'm not sure we know his exact country of birth, but he attended Durmstrang, so he's presumably Eastern European, or perhaps from somewhere in Central Europe. In which case, perhaps there was more flexibility on the casting for him.
As for Depp, you can't deny, he has range. He's targeted some quirky characters over the span of his career, including Edward Scissorhands, the Mad Hatter in Alice in Wonderland, Willy Wonka in Charlie and the Chocolate Factory, and perhaps his most iconic character role to date, Captain Jack Sparrow in the Pirates of the Caribbean films. With most of those roles, he's managed to blend playful humor with a bit of darkness. In that respect, I'm not sure I would've pictured him as Gellert Grindelwald, whom I imagine to be more dark and sinister. But we have to take into account the fact that we don't know Dumbledore's rival very well. He's only glimpsed briefly in Harry Potter and the Deathly Hallows, and features more in reference in the books.
It's also fair to note that Johnny Depp can play it dark and deep when he needs to, just as well as he can be playful. Perhaps the real Gellert Grindelwald is a bit of both. It would certainly help explain some of the connection the character has with Albus Dumbledore, another powerful wizard with depth and a playful side. And Grindelwald did spend his final moments fearlessly laughing in Voldemort's face. That in itself is one reason I'm so excited to get to know this man. And if Depp's the guy to play the role, it'll be very interesting to see how he tackles it.
Hopefully we'll get confirmation on Johnny Depp's Fantastic Beasts character soon. And news that Depp has been cast coming in so close to the release of the first Fantastic Beasts film gives me a bit of hope that we might actually hear word on Dumbledore's casting (assuming he plays a role in Fantastic Beasts 2, of course.) Fingers crossed. In the meantime, if you hadn't heard, it looks like the sequel to Fantastic Beasts will be bound for Paris.
Fantastic Beasts and Where To Find Them arrives in theaters November 18.
Your Daily Blend of Entertainment News
Assistant Managing Editor
Kelly joined CinemaBlend as a freelance TV news writer in 2006 and went on to serve as the site's TV Editor before moving over to other roles on the site. At present, she's an Assistant Managing Editor who spends much of her time brainstorming and editing feature content on the site.