How Darth Vader May Be Involved In Star Wars: Rogue One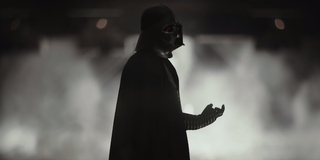 Even though he won't be the movie's primary antagonist, it's difficult to ignore Darth Vader's involvement in Rogue One: A Star Wars Story. Excluding a few appearances on the animated Star Wars Rebels, it's been years (decades if you ignore Revenge of the Sith) since we've seen the cyborg Sith Lord in action. While it remains to be seen how much total screen time Vader will have in Rogue One, new information suggests that his role will primarily have to do with berating the movie's main villain, Orson Krennic.
According to a source who spoke with StarWarsNewsNet, Darth Vader will confront Orson Krennic, the Director of Advanced Weapons Research for the Imperial Military, over how the Empire should wait until unleash the power of the Death Star right away. It's unclear whether Emperor Palpatine sent Vader to Krennic or if Vader came on his own accord, but either way, his orders fall on deaf ears. Apparently this exchange will happen shortly before the gigantic space station fires on the planet Jedha, something which Krennic evidently ordered. The report speculates that this is what will lead to Krennic's downfall by the end of Rogue One, i.e. he'll most likely be given one of Vader's classic Force-chokes.
Although Orson Krennic is one of the top Imperial military officers shortly before A New Hope, a report from three weeks ago shed some light on the adversity he'll face in Rogue One. Because he didn't come from the same aristocratic background as other important officers in the Empire, Orson had to slowly climb up the ladder to earn his esteemed position, and according to director Gareth Edwards, this means he'll hit a "brick wall in the hierarchy" during Rogue One's main events and be forced to defend what he's earned from others who want to take him down a couple pegs. This report indicates that Krennic may want to use the Death Star as a way to solidify his importance, but Darth Vader believes they should exercise caution with using the superweapon. If there's one thing we all learned watching the Original Trilogy, it's that not following through on Vader's wishes comes at one's peril.
Although the Rogue One previews made it clear that Darth Vader will look just as menacing as usual, it looks like we won't learn how the Sith Lord will fully contribute to the movie until we're seated in the theater. Nevertheless, given Rogue One's placement in the Star Wars timeline and Vader's penchant for killing off Imperial officers, it wouldn't be surprising if he does make Krennic pay for not heeding his warning. Even if there aren't any scenes of Vader cutting down Rebel scum with his crimson-bladed lightsaber, at least seeing him exact punishment on an Imperial underling will make Rogue One feel like one of the original Star Wars entries.
Rogue One: A Star Wars Story will be released in theaters on December 16.
Your Daily Blend of Entertainment News
Connoisseur of Marvel, DC, Star Wars, John Wick, MonsterVerse and Doctor Who lore. He's aware he looks like Harry Potter and Clark Kent.