Dwayne The Rock Johnson Wants To Make Rampage Into A Movie, Get The Details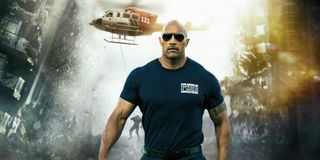 Dwayne Johnson has fought against a massive earthquake, speedster car racers, gargantuan beasties, ancient Greek soldiers, and Cobra agents. What's a giant lizard, gorilla and wolf to him? Johnson, who recently came off a lead role in the earthquake disaster movie San Andreas, has been cast as the star of the Rampage movie. You remember that '80s arcade game from Midway Arcade Game? Yeah, well, The Rock is now headlining the live-action adaptation.
Deadline has reported the news of Johnson's involvement, and although the plot for the film remains unknown, it's safe to say that revolves around a giant lizard, gorilla and wolf ravaging three major cities, Godzilla-style. That's pretty much all that the source material contained.
In the video game, users could choose to play as Lizzie (the lizard), George (the gorilla) or Ralph (the werewolf) - all of whom were humans who were experimented on and mutated into giant monsters. The object of the game was to fight your way through hordes of military forces — including helicopters, tanks, police cars, taxis, trolleys and trains — and to reduce the targeted city to rubble before moving onto the next round. Often times this included climbing up the sides of buildings and grabbing people from the windows.
As we previously reported, Ryan Engle of Non-Stop is working on the script for the Rampage movie, and now he's also looking to fill the director's chair. Johnson, Beau Flynn, John Rickard and Dany Garcia are on board as producers. But don't expect this movie to drop into theaters soon. The plan is to have Johnson start filming after he's done with Fast and Furious 8, which is currently set for release April 14, 2017. He'll reprise his role as Hobbs in the sequel opposite Vin Diesel, but he also has to worry about finishing production on Central Intelligence and his new HBO show Ballers. The actor was also recently cast in the lead role of the Big Trouble in Little China remake, and he's expected to make another Journey to the Center of the Earth movie as well. Plus, he also has the press tours for Disney Animation's Moana next year, and he's been cast as the comic book villain Black Adam in DC's Shazam. It seems like "no" is not really in Johnson's vocabulary. Lord knows where he'll find time for all of this and have some time for himself.
As for Rampage, it's the latest example of the growing trend of adapting video games, especially ones from the '80s and '90s, for the big screen. Other ones in the works include Pixels - which combines all our favorite classic games into one alien invasion movie; a Space Invaders film; Assassin's Creed; Warcraft; an animated Angry Birds; Agent 47; and Splinter Cell.
Your Daily Blend of Entertainment News