See The Emotional Messages Fast & Furious Stars Sent To Paul Walker On The Anniversary Of His Death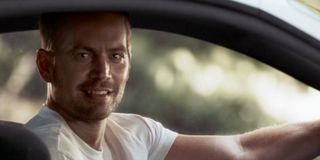 It has been three years since Paul Walker died in an automobile crash, which also took the life of his friend Roger Rodas. As a mainstay of the Fast & Furious franchise over the course of the last seven films, there was an unbreakable bond between the 40-year-old actor and his co-stars. So it's unsurprising that on the anniversary of his death, they've been taking to Twitter and Instagram to celebrate Paul Walker's life and proclaim how much they miss him.
Jordana Brewster, who portrayed Mia Toretto, the partner of Paul Walker's Brian O'Conner in the Fast & Furious franchise, shared a picture of herself and the actor on Twitter to mark the occasion, as well as including a heartfelt and touching comment about Walker.
She was soon joined by Tyrese Gibson, who will reprise the role of Roman Pierce in Fast 8 for a fifth time when it's released on April 14, 2017. But this was a time for reflection rather than looking forward, and Tyrese Gibson posted an emotional tribute video of himself and Paul Walker that documented their friendship.
Ludacris, who portrays Tej Parker in the franchise, also took to Instagram himself to upload his own message for Paul Walker, which while much more simpler than Tyrese Gibson's post was still just as fitting.
Paul Walker's untimely passing occurred when filming on Furious 7 was only half-complete. This led to the film being delayed for extensive script rewrites, while Paul Walker's brothers Caleb and Cody were hired as his stand-ins. When Furious 7 was released in April, 2015, audiences flocked to cinemas to pay their respects to Paul Walker to the tune of $1.516 billion. Come the end of the movie they were also treated to a classy farewell to the actor, too, which left most viewers more than a little emotional.
In spite of this tragedy, the Fast & Furious train will roll on this coming summer with an eighth installment to the franchise. Fast 8 takes the action to Cuba, Iceland, and New York this time around, and since its release date is now just over 4 months away, we can expect our first trailer to hit pretty soon, too.
Your Daily Blend of Entertainment News
Thank you for signing up to CinemaBlend. You will receive a verification email shortly.
There was a problem. Please refresh the page and try again.