Disney Blew Past A Massive Box Office Milestone Before Rogue One Has Even Opened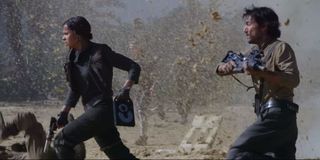 If this year has looked like it's been a big one for Walt Disney Studios, it has. In fact, it's been one for the record books. And when you consider the fact that the studio has one more major release this year, they're not done yet. As of now, Disney has had the biggest year at the domestic box office in history. Everything that Rogue One: A Star Wars Story does from here on out is just gravy. Gravy made of money.
Last year, Universal Pictures was the one setting records. They became the first studio to break the $4 billion mark overseas, ending the year with a foreign box office record of $4.45 billion. On top of that, they added a domestic record of $2.45 billion, but Disney just raced past that number. According to Deadline, Disney's domestic numbers are now sitting at $2.49 billion, and they just passed the $4 billion mark overseas, so they've got Universal in their sights, with two films, Doctor Strange and Moana currently in theaters all over the world, and the newest Star Wars film waiting in the wings.
Disney's global total now sits at a staggering $6.5 billion, second only to the total that Universal put up last year, an impressive $6.89 billion. With Rogue One: A Star Wars Story coming out in just a couple of weeks, it would seem that the only real question is if the movie will do the required amount of business before the year ends. The only thing working against Disney at this point seems to be the calendar.
The other thing that's impressive is that Disney has reached this level by releasing a fraction of the films that Universal did during their record-setting year. At this point, the vast majority of Disney's business can be chalked up to only a few films. Only two movies have broken the $400 million mark in North America, and both of them, Finding Dory and Captain America: Civil War, are from the Mouse House. Looking down the list from there, two of the next four box office leaders are The Jungle Book and Zootopia. Disney makes up half of the top 10 movies of the year both domestically and internationally.
Of course, the fact is that Star Wars has already done a fair amount of business for Disney this year. While it's not usually included on box office lists, because it was released in 2015, the fact is that Star Wars: The Force Awakens still brought in nearly $300 million this year in North America alone. If you include it in the box office totals for the year, it's still the ninth highest grossing film of the year. It came up just short of the number one spot in 2015, coming up $300,000 under the total of Jurassic World when 2015 expired.
It's difficult to know how Rogue One: A Star Wars Story will do. While it has the Star Wars name, which will certainly be good for a strong opening weekend, whether it will have the staying power to put up several hundred million before the year ends is unclear. Disney has still had the biggest year in their own history, but time will tell if they'll have the biggest year in the history of the industry.
CinemaBlend's resident theme park junkie and amateur Disney historian. Armchair Imagineer. Epcot Stan. Future Club 33 Member.
Your Daily Blend of Entertainment News
Thank you for signing up to CinemaBlend. You will receive a verification email shortly.
There was a problem. Please refresh the page and try again.