The Defenders: What We Know So Far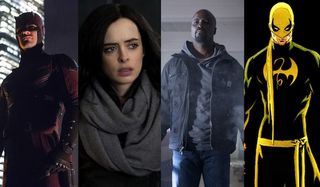 The Marvel Cinematic Universe currently has two primary superhero teams: the Avengers and the Guardians of the Galaxy. Now this gigantic franchise is about to get a third team, thanks to the upcoming miniseries, Marvel's The Defenders. When the House of Ideas announced their original slate of Netflix shows in 2013, that included revealing that Daredevil, Jessica Jones, Luke Cage and Iron Fist would eventually band together. Longtime comics fans know that this isn't the traditional Defenders lineup from the comics, but for the MCU, these characters will be confronting a yet-to-be-revealed adversary that threatens the streets of New York.
The Defenders will be overseen by Daredevil Season 2 showrunners Douglas Petrie and Marco Ramirez, and while there's still some time before the show premieres on Netflix, various tidbits have come out that begin to paint a picture of what fans can expect. Here's everything we know so far about the upcoming Defenders miniseries so far.
When Will The Defenders Air
It was confirmed at San Diego Comic-Con 2016 that The Defenders will air sometime after Iron Fist in 2017, with shooting beginning right before the year is over. While we're grateful to at least have a year cemented, this doesn't help us with when we should mark the date on our calendars for the big session. For the sake of argument, let's assume that Iron Fist premieres around the same time as the Daredevil seasons did, i.e. in March or April. The previous gaps between the Marvel Netflix shows have varied between four to seven months, so that means The Defenders could air at the earliest in August and at the latest in November. For those wondering if that could change should Marvel want to squeeze in a third series in 2017, that's not happening. Along with the year confirmation, Marvel also revealed that Daredevil Season 3 and Jessica Jones Season 2 won't premiere until 2018 at the earliest. You'll still see these characters participating in The Defenders, but their solo adventures won't continue for a while.
How Long Will The Defenders Be
Unlike the its predecessors, The Defenders is a miniseries rather than a full series. So rather than being 13 episodes, it will only be eight episodes, all of which will surely be released at once just like with most of Netflix's other TV content. The Marvel Netflix shows, like many cable shows, have been praised for telling tight stories without a lot of filler, and The Defenders is only going to make things tighter. It remains to be seen whether one will need to have watched all of the previous series' to understand what's going on or if it will be easy to jump into by itself. Of course, given how well these shows have been critically received so far, we would recommend the former. Also, just because this is a miniseries doesn't mean that the Defenders couldn't someday reunite. After more seasons of these Marvel shows have aired, maybe The Defenders 2 miniseries could air, but that would be a long ways away.
What's The Defenders About
No specific plot details have been released about The Defenders yet. All we know for sure is that something will happen in the New York neighborhoods that will result in Daredevil, Jessica Jones, Luke Cage and Iron Fist joining forces to stop this threat. Think of this as the culmination of Marvel's first Netflix "phase." Marvel's Phase One of movies introduced Iron Man, Hulk, Thor and Captain America in their own adventures, with Black Widow and Hawkeye being set up in those as well. Then The Avengers brought them together in 2012. The Netflix shows are operating under the same principle. Set up all your main heroes beforehand in a season or two, then bring them together for the big team-up. Whatever brings the street-level heroes together obviously has so be something big, whether it's crime-related or something mystical. However, don't expect whoever or whatever that this threat is to offer a challenge on the same global scale as Avengers villains like Loki or Ultron. The Marvel Netflix shows have been self-contained to the New York City neighborhoods, and we don't expect The Defenders to be any different.
Daredevil
Matt Murdock was the first hero to be introduced to the Netflix side of the MCU, his show's first season premiering in April 2015. Just like his comic book counterpart, Matt was blinded by mysterious chemicals when he was a boy, but not only did he discover that his other senses were enhanced following the accident, but he also gained a "radar sense." After training to fight and witnessing several injustices as the years passed, Matt decided to use his skills to battle crime in Hell's Kitchen, donning a mask and costume to protect his identity. Daredevil Season 1 followed Matt fighting Wilson Fisk while trying to maintain his new law firm with Foggy Nelson and Karen Page. By the end of that season, he traded in his black duds for the familiar crimson costume. Season 2 charted his ideological conflict with The Punisher and him reuniting with his former flame, Elektra, to battle The Hand. Unfortunately, these came at the cost of his personal life. His firm went belly up, his friendship with Foggy was more damaged than ever and his romantic relationship with Karen was ruined. When we last saw Matt, he had just revealed to Karen that he was the Man Without Fear.
There's not a lot of Defenders information out right now, but one thing we already do know is that Daredevil will be the one bringing this band of heroes together. According to Charlie Cox, Matt Murdock learned the value of teamwork in Daredevil Season 2 and realized that his lone wolf act isn't going to cut it anymore. Now willing to form a team, he'll seek out the other street-level heroes, Nick Fury-style. We're guessing that there will be a specific event that prompts him to take this action, but at least he's finally ready to work with New York's other neighborhood vigilantes.
Jessica Jones
Marvel followed up Daredevil's first season with Jessica Jones Season 1 in November 2015. Unlike Matt Murdock, Jessica had no aspirations to be a superhero...well, at least not in the present day. When she was a girl, Jessica was caught in a car crash that killed her parents and brother, but she gained super strength from the mysterious chemicals (hmm, I'm noticing a pattern here) being carried on the truck that crashed into them. Thanks to some convincing from her friend/adoptive sister Trish Walker, Jessica eventually realized as an adult she wanted to use her powers to help people. She was all set to go intro crimefighter mode until Kilgrave subjected her to his power. Jessica eventually escaped him, but she was permanently traumatized, and her show's first season focused on her trying to rid the world of the mind-controlling sociopath. She succeeded, but it was clear in Season 1's final minutes that she is still haunted by her inner demons.
Since Jessica Jones Season 2 won't air until 2018, The Defenders is where we'll catch up with how Jessica is doing following Kilgrave's defeat. Despite ridding the world of that Purple Man (unsubtle comics nod), she didn't seem any more interested in becoming a superhero. Granted, we never expect her to wear the Jewel costume, but it's hard to imagine her jumping straight into action when The Defenders kicks off. It will probably take some convincing from Matt Murdock and maybe Luke Cage to join the superhero team, but we know she'll eventually fight alongside them.
Luke Cage
Luke Cage's solo series premieres in September, but we've already gotten to know the bulletproof man a little bit thanks to Jessica Jones. Luke was a mysterious bartender that Jessica met during one of her investigations, and the two of them soon fell in love, their powers giving them a special connection. Outside of his wife, Reve Connors, being killed, Luke's past wasn't explored in Jessica Jones, but viewers still got a good feel for his characterization. Like Jessica, he was also ambivalent about being a superhero. The last time we saw Luke, he had finally recovered from being shot in the face by Jessica Jones (who had done that to snap him out of Kilgrave's control), but she was gone when he woke up. The Luke Cage TV series will pick up with Luke in Harlem using his abilities to battle Cornell "Cottonmouth" Stokes.
Because we haven't seen Luke Cage yet, it's hard to say how Luke will be when The Defenders begins. Maybe he's more open to being a superhero, or maybe his new experiences won't have changed his mind on the subject. We're guessing the former if Luke is so willing to tackle organized crime in his TV series. The Luke Cage in Jessica Jones was hesitant to get involved in these sort of affairs so that he wouldn't paint a target on himself. Whatever the case, his mighty strength and indestructible skin will come in handy fighting whatever is threatening New York City this time around.
Iron Fist
Danny Rand, a.k.a. Iron Fist, is the only one of the future Defender viewers haven't met yet. Although he's rumored to cameo at the end of Luke Cage, Danny will fully debut in his own TV show, which premieres in early 2017. From what we've learned in reports and that brief teaser, the eponymous protagonist's MCU origin story will closely match his comic book counterpart's. After his parents died when he was young, he trained for many years at a Buddhist monastery, and now he's finally returned to New York City as an adult. That teaser didn't show much of him in the Big Apple, and his only display of power was punching threw a wall. We don't even know if he'll wear his trademark green and yellow costume.
Since Iron Fist hasn't been introduced to the MCU yet, we can't really predict what he'll be like in The Defenders, but obviously his mystic powers will be a tremendous asset against whatever adversaries they'll be engaging. It's also safe to say he and Luke Cage will hit it off, given their longtime partnership and friendship in the comics.
Other Characters
So far there are only three characters who have been confirmed for The Defenders besides these four heroes. The first is Franklin "Foggy" Nelson. Best known as a key member of Daredevil's supporting cast, Foggy kicked off his MCU tenure in Daredevil Season 1 as one-half of the Nelson & Murdock law firm, but once he discovered his best friend was Daredevil, their relationship was forever changed. After Nelson & Murdock collapsed following the Punisher trial in Daredevil Season 2, Foggy took a job at Hogarth, Chao and Benowitz, the same firm seen in Jessica Jones. That's presumably where we'll find him at the start of The Defenders, but don't expect him and Matt to be chummy, as their friendship is more strained than ever.
The second character is Stick, the blind Chaste member who trained Matt Murdock how to fight. Stick was heard criticizing the four main heroes in the Defenders teaser. However, the smart-mouthed martial artist has jumped back and forth as Daredevil's ally and enemy, so it's unclear exactly what his role will be. The third character will be Malcolm Ducasse, Jessica Jones' neighbor and ally.
Beyond those two, it's up in the air who else could appear in The Defenders. Obviously other supporting cast members from these shows are eligible, from Karen Page to Trish Walker to Misty Knight to Colleen Wing. Let's also not forget Frank Castle, a.k.a. The Punisher. Although his own series won't premiere until 2018 or later, there's always the chance the skull-emblazoned shooter could pop in to provide some much needed support. Then there's Elektra, who died at the end of Daredevil Season 2. Since Stick is somehow involved, perhaps we'll see her revived by The Hand here rather than in Daredevil Season 3.
Off the top of our heads, we're betting Rosario Dawson's Claire Temple will be involved somehow. She's the only character to appear in all of the Marvel Netflix shows so far, and she already has a special deal in place to appear on these shows. We can probably expect her to pop up, but not necessarily be around the entire time. Regardless, we'll have to keep waiting to officially find out who else will be seen alongside the main heroes.
Your Daily Blend of Entertainment News
Connoisseur of Marvel, DC, Star Wars, John Wick, MonsterVerse and Doctor Who lore. He's aware he looks like Harry Potter and Clark Kent.