How Patty Jenkins Was Involved With A Wonder Woman Movie Over 10 Years Ago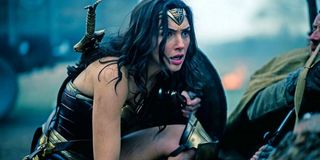 It's safe to say that moviegoers have been waiting for a Wonder Woman film for quite some time. But while we're now counting down the months, weeks and days until Gal Gadot's origin story as the superhero is finally released, it turns out that it could have been here much sooner, as Wonder Woman's director Patty Jenkins actually pursued making the blockbuster a decade ago.
Patty Jenkins admitted this to The Hollywood Reporter, revealing that her original meeting with the studio regarding Wonder Woman was held shortly after the release of her debut directorial effort Monster all the way back in 2003. Patty Jenkins explained,
Obviously things stalled regarding Wonder Woman. Meanwhile Patty Jenkins went on to focus more on television work rather than film, as she directed episodes of Arrested Development, Entourage, The Sarah Silverman Program, The Killing, and Betrayal. This is only her second feature film as a director, though. Monster, which she wrote and directed, was a huge hit both critically and financially, as it went on to gross $60.4 million from just an $8 million budget and won Charlize Theron the Academy Award For Best Actress, while Patty Jenkins also directed a segment of 2011's made-for-television film Five.
Meanwhile, Wonder Woman has undergone many different guises ever since it was originally developed back in 1996. Directors Ivan Reitman, Nicholas Winding Refn, Joss Whedon, producer Joel Silver, and actresses Sandra Bullock, Angelina Jolie, Catherina Zeta-Jones and Lucy Lawless have each been linked to the film. Eventually Patty Jenkins and Wonder Woman came full circle, though, and she recently completed directing Gal Gadot's Diana Prince from a script by Allan Heinberg and Geoff Johns. It looks rather spectacular, too.
Of course, there's an awful lot riding on Wonder Woman. Not just because it is the first summer tentpole superhero film to be led by a female character in a long time or because it's the first of such ilk to be directed by a woman, but because Warner Bros. and DC are in dire need of a critical hit.
Man Of Steel is seen as the most impressive installment from the DC Extended Universe yet, and even that was met with more mixed than positive reviews, as fans criticized its conclusion that showed Superman killing General Zod. But Batman V Superman: Dawn Of Justice and Suicide Squad were critically walloped when they were released earlier this year, and even though all three have made a combined total of $2.286 billion at the box office, Wonder Woman needs to impress critics in order to stem the tide of criticism coming the DCEU's way.
We'll see if it can do just that when Wonder Woman is released on June 2, 2017.
Your Daily Blend of Entertainment News
Thank you for signing up to CinemaBlend. You will receive a verification email shortly.
There was a problem. Please refresh the page and try again.